First feelings shared in Sachsenring's Thursday press conference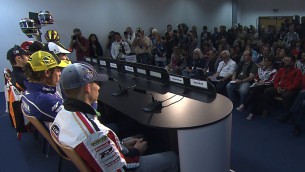 The pre-event press conference for the eni Motorrad Grand Prix Deutschland was staged on Thursday. In attendance were championship leader Dani Pedrosa (Repsol Honda Team), Jorge Lorenzo and Valentino Rossi (Yamaha Factory Racing), Cal Crutchlow (Monster Yamaha Tech 3), Andrea Dovizioso (Ducati Team) and Stefan Bradl (LCR Honda MotoGP).
Naturally, much of the attention was focused on the reigning World Champion, with Lorenzo having ridden to a top five placing at Assen despite a broken collarbone. "I was really surprised to have the possibility to race at Assen, but I am also surprised at the very quick recovery that I am having," Lorenzo began. "Every day I feel a big improvement, also because I have the physio working with me every day - morning and afternoon – so it is lots of hours of working together. I don't feel perfect, but I feel much better than I did at Assen and that is very good. It was painful and scary…but it was enough to finish in fifth position and it was only two points (lost) – that was the most important thing."
Pedrosa, currently nine points ahead of Lorenzo in the standings, finished fourth in The Netherlands which equaled his previous worst 2013 result of Qatar. However he is now more confident, when looking at those circuits coming up on the calendar. "I think we were struggling on tracks where we have always struggled, so of course we were behind but we more or less expected that," explained the rider who has won the last three German Grands Prix and six times in total at the Sachsenring. "I think we also can have some good races from now on; we just have to work very strong on the weekend and go practice by practice, trying out the tyres on the bike to find a good setting and to have a good race result for the team and myself."
Crutchlow was unable to hide his feelings, believing he and his squad must work hard together in order to maintain strong pace over the duration of a race distance. "It was a missed opportunity," the Englishman said of Assen, where he finished third from his career-first pole position, "but I could look at every race and say it was a missed opportunity - because I have never won one. I felt more confident towards the end of the race, but that is too late. It's not just the bike and the setup; I still feel I have to improve as a rider to be able to both start and finish the race strongly."
On the contrary, Valentino Rossi made headlines the world over by claiming his 80th premier class victory last time out, ending a run that had seen the nine-time title winner experience over two full seasons of no race victories. "It is great," Rossi commented. "I am very happy because I have a lot of fans around the world and have had a long career with good battles and good victories, so to take the victory in Assen after a long, long time is so positive. Now it will be important here to confirm that I have raised my level and increased my speed to try and fight with the top guys. This track is not one of my favourites with regards to the layout, but I have had many great battles and memories."
At Ducati Team, with whom Rossi had spent his 2011 and 2012 campaigns, Andrea Dovizioso continues to adapt to his latest situation. Following a test at Misano between the Assen and Sachsenring races, the Italian is set to race with a new chassis this weekend, as previously sampled by compatriot Michele Pirro. "It will be a tough weekend, we know that," Dovizioso started bluntly. "We had a good test at Misano last week. We will try different things here; a new chassis, with better feeling on the last part of braking for corner entry. It won't make a big difference in lap time but it's a bit different. We are not fighting for the championship, so we can afford to take this risk. It will just be more data to have with the new materials, which is important."
Another man striving for stronger results is local favourite Stefan Bradl, who achieved a front row start at Round 7 but finished sixth in the race as he ran with front brakes provided by Brembo as opposed to his usual option of Nissin. "We expected a little bit better at Assen, but we had some problems at the beginning of the race," the German explained. "I did not feel so comfortable so I was not able to push and was losing some time at the beginning. I will carry on (with the Brembo front brakes) here. Assen was the first time, so there was a little difference, especially at the beginning of the race, as at Assen you brake for two corners and get some good temperatures, but in the other areas the circuit is very flowing; so that is the reason I was so slow at the beginning. As you can see, the fans in this area are crazy because they love this race and it's so important for them and for me."
The track action for this weekend's eighth round of the World Championship begins with Free Practice 1 on Friday, starting at 9:55am local time (GMT +2).
Latest news
Saturday, 13 December 2014

Wednesday, 10 December 2014
Read more »
Thursday, 4 December 2014

Thursday, 27 November 2014

Tuesday, 25 November 2014

Wednesday, 19 November 2014

Tuesday, 18 November 2014
Read more »