Iannone to undergo surgery on Tuesday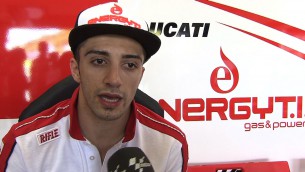 Jerez has marked a difficult weekend for Pramac Racing. With Ben Spies already on the sidelines, Andrea Iannone sustained injury on Saturday and then retired from Sunday's Gran Premio bwin de España on the fourth lap. It has now been confirmed that he will undergo arm pump surgery in Barcelona on Tuesday.
Spies did not travel to Spain as doctors advised him to stay at home in Texas due to a problem with a pectoral muscle. Iannone then fell in final practice, picking up a particularly deep cut to the left knee. He went on to qualify a respectable 11th and made a good start to the race, but soon found himself on the ground.
"I had hoped that this weekend would go better for me," the 2013 rookie commented afterwards. "I was very confident that I could do well - also because this is the track at which I've done the most kilometers on a MotoGP™ bike.
"In fact, we didn't start off too badly and we did a good job before the two crashes. Unfortunately, the first fall made things a bit difficult for me physically, as I'm missing some strength, maybe also because of the medicine I'm taking.
"I suffered quite a bit in the Warm-Up session, but thanks to the work done by the Clinica Mobile and Dr. Costa I thought I could make it to the finish line. Although my launch wasn't the best, I managed to pass some riders in the first and second turns. I was doing okay, so I'm sorry for how it went.
"It was a really short race for me because, like yesterday, I lost the front. Fortunately, I'm fine. A big thank you to the team for the work we're doing together; now we'll focus on Le Mans."
Later in the evening, the following statement was released by the team:
'At the advice of Dr. Claudio Costa, who monitored Andrea Iannone during the race weekend, the Italian rider will undergo surgery on his right arm on Tuesday at Dexeus, Dr. Xavier Mir's Barcelona clinic. The procedure is intended to resolve the arm pump problem that continued to cause a loss of feeling and strength during this weekend at Jerez de la Frontera. Iannone is expected to be released from the clinic the following day, in time to carry out the rehabilitation necessary to regain use of the muscle in order to be ready for the Le Mans GP 17-19 May.'
Pramac will not take part in Monday's sole day of testing at Jerez, in order to give its riders maximum time to recover following their recent misfortunes.