Poncharal: "In terms of machinery, Crutchlow is in a good place"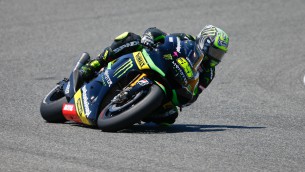 Before heading to Le Mans this week, Monster Yamaha Tech 3's Herve Poncharal takes time out to catch up with motogp.com. The Team Manager discusses his technical collaboration with Yamaha, rumours on the transfer market and more on current riders Cal Crutchlow and Bradley Smith.
It took only three races of the 2012 MotoGP™ season to pass by before tongues started wagging and rumours of rider moves began to swirl around the paddock. Several British publications reported last week that, after meeting with Cal Crutchlow, he revealed that he could be replaced at Tech 3 next year by Pol Espargaro - brother of Aleix and a strong contender for this year's Moto2™ title.
With the latest headlines in mind, motogp.com believed the time could not have been better to sit down with Poncharal and discuss the Crutchlow situation. If the leading British rider regularly comments that he does not enjoy as many new motorcycle parts as Yamaha Factory Racing's Jorge Lorenzo and Valentino Rossi, his boss has expressed a very different opinion and stresses the continued efforts of the Japanese company, which has been working with Tech 3 since 1999.
motogp.com: We often hear Cal explaining that he has no new parts to test from Yamaha. What is your opinion from a technical point of view?
Herve Poncharal: Cal now has ultra-competitive machinery, as we have seen from what he managed to achieve in Qatar, Texas and Jerez - and not only in races but also in qualifying. He has had the best lap time on several occasions, in comparison with the Yamaha riders. In MotoGP engines are sealed and closed, so you cannot tell exactly what is inside them, but our engine specs are almost identical to the factory engines and we are now into the third development phase of the chassis since the first pre-season test at Sepang. We first tested the chassis in early February. That was followed by an update in late February (for the second Sepang test) and then another one at the post-race test in Jerez last week. I do not think one can say - and, furthermore, I do not think Cal can say - that we don't have active support and competitive machinery.
I always remember Furusawa (Masao, responsible for the development of the Yamaha M1 between 2004 and 2010) saying that it was never two factory and two satellite bikes for Yamaha, but four official bikes. I believe Cal has a bike that is very, very close to those of the official riders (Lorenzo and Rossi). Would one say it is exactly the same? No, but performances are subjective and especially when it comes to the chassis. For example, Valentino does not always use the same chassis as Jorge; a chassis can be better or worse to handle depending on the individual feelings of each rider. So technically speaking, for me, the situation Cal finds himself in is very good and he is very much considered a factory rider of the Yamaha Motor Corporation.
Rumour has it Pol Espargaro could compete in MotoGP with Tech 3 next year. Has Yamaha spoken with you about such a happening and does this possible new arrival determine your rider line-up for next season?
I am currently in talks with Yamaha to renew the support contract, because the current deal between Tech 3 and Yamaha will expire in late 2013. We're now talking about extending it to 2014, 2015 or 2016…at least two years, though. We are still discussing terms and so I, obviously, cannot talk with riders just yet. It is still not absolutely sure what machinery will be available for 2014 and 2015. Personally, I have never talked to Espargaro on behalf of Tech 3.
That Yamaha and Espargaro have spoken is a certainty. He is one of the most talented young riders in Moto2. Marc Marquez, Andrea Iannone and Bradley Smith have already made the jump to MotoGP and so that would also be a logical step for him next year. The road to Honda is closed because they have four riders under contract until the end of 2014: two at Repsol Honda, one at Gresini and one at LCR. If Espargaro does want to compete in MotoGP next year, he will obviously have to do it with another marque and so it is obvious that he is in talks with Yamaha. I do not know the depth of those conversations; whether something has been agreed, is almost agreed or whether there is still a lot to sort out. What I do know is that Yamaha has four bikes and, when Cal Crutchlow is the only rider who is contracted only for this year, some think Espargaro could take his place. The current situation is that we are in May, that I have a contract with Cal for 2013 and that Yamaha has opened up some negotiations - nothing more than that. I love Cal and will be keeping him informed of what I know, simply to allow him as much time as possible to remain attractive on the rider market - whether that will be to stay at Yamaha or to go somewhere else.
On the other hand, when we renegotiated in mid-2012, Cal talked to us but was also in discussions with Ducati. He told me Ducati would be his priority if he had the opportunity, just as Andrea (Dovizioso) did, because they both wanted to be full factory riders. Ducati chose Andrea and Cal ended up staying with us, but he had been ready to go in mid-2012 and so only renewed his deal with us for a year in order to maintain the opportunity of being on the rider market for 2013, to try and become a factory rider which would be a dream for him. Had he signed for two years, he would not be in this situation now. For him, Tech 3 might be Plan B, but each rider manages his own situation and it is true that Cal is a bit boisterous. There is a market out there, though, and Yamaha are free to make their own choices.
And what about the contracts between Tech 3 and its two current riders?
Right now I have two riders: Cal Crutchlow and Bradley Smith. We are still in the first part of the 2013 season and are focusing on it 100%. I have sponsors who have invested in my team to get results and benefit from them in 2013. That is also my goal and is what is most on my mind at this point, more than asking me if somebody will go one way and somebody else somewhere else, or whether I should be bringing such and such rider into the team.
We are now into the run-up for the French Grand Prix, which is a highly important one to us and not just because we are French - because, after all, we do not have a French rider in the team. It's also important because this race is backed by Monster Energy, which happens to be our title sponsor, plus the fact that France is a big market for the likes of Black & Decker, Stanley and DeWalt, as well as Motul and Yamaha Motor France. Bearing all of that in mind, we are focussing on this race. The media love to talk about future contracts, but this race is our priority at the moment.