Kalex: 'Time running out for MotoGP™ project'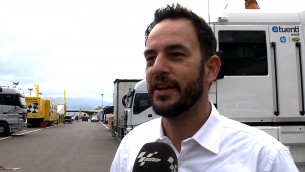 Kalex has stressed that the clock is ticking, in terms of providing chassis for the new Yamaha lease engines that will be used in the MotoGP™ class from the start of 2014. Although the company is highly interested in being involved, Managing Director Alex Baumgaertel is calling for decisions from the teams.
From the start of next year, a maximum of four entrants in the top tier will be running with Yamaha lease engines. The choice of chassis would appear to come down to Kalex, FTR and Suter. During this week's Moto2™ test at Mugello, Baumgaertel spoke with motogp.com.
"There is always interest in the back of our minds," the Kalex co-founder began. " That is the upper class and where everybody ultimately wants to be. For sure, there is talking and finding out information about the circumstances, but we have not had any actual activity. It is now up to the teams to get into gear and to take the final decisions about whether they want to start or not. Time is already running out."
With Yamaha's Lin Jarvis pinpointing the end of June as the time by which team need to have contracted a manufacturer, Baumgaertel adds that more data is still required.
"There is no information at the moment - nothing," he continues. "It is really just the general conditions; how many engines there would be, the delivery state and stuff like that. The teams need to take the decision about whether they want to start and we need to make a plan for that; then find the resources, manpower and things like that – and that is not done in one weekend.
"I would have preferred to start a project like this last year. We would still be able to build something in time, but how competitive it would be is a different story – because you should have some testing before you go showing it off to the whole world."
In the meantime, Naoya Kaneko – Chief Mechanic to Mike Kallio at Marc VDS Racing Team, which uses Kalex chassis in Moto2 and Moto3 - talks of the possibilities stepping up to MotoGP™.
"Kalex is a highly specialised company in motorcycling engineering, as we can see in Moto2 and Moto3," Kaneko says. "The concept of MotoGP is different, though; it's not just a matter of chassis, as there are many other parameters to be analysed. Kalex is still somewhat 'green' in that respect and would need to learn bit by bit."
As already explained by Yamaha's Jarvis, the Japanese company will be supplying its lease engines to either two teams of two riders, one team of two riders and a further two one-rider teams, or four individual teams each with a single rider.
Photos:
Latest news
Thursday, 22 January 2015

Thursday, 4 December 2014

Thursday, 27 November 2014

Tuesday, 25 November 2014

Wednesday, 19 November 2014

Tuesday, 18 November 2014
Read more »