More Lorenzo surgery, could return at Laguna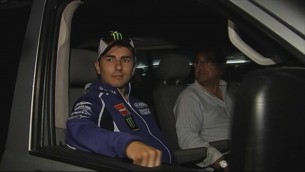 Following his crash at the Sachsenring on Friday, in which he bent the titanium plate attached to his left collarbone, Jorge Lorenzo has undergone another operation. Although the Spaniard initially suggested he would be missing next weekend's race at Laguna Seca, competing in the event still remains possible according to his team.
Lorenzo broke the collarbone in Thursday practice for the Dutch TT just over two weeks ago, returning to Barcelona where the plate was attached with eight screws. In Germany on Friday, the plate was damaged after the Yamaha Factory Racing rider highsided on the exit of Turn 10.
Having been ruled out of this weekend's race, he underwent surgery at the Hospital General de Catalunya on Saturday morning.
"As a result of the trauma suffered in the crash yesterday, the original fracture suffered a little movement that required a new surgery to close the space and reduce the fracture by the osteosynthesis method and with a new plate," explains Dr. Joaquin Rodriguez, surgeon who carried out the procedure.
"The new plate needed ten screws plus one inter fragmentary screw. We then needed to take out some bone substance from the pelvis that was mixed with dried bone. We placed this implant into the collarbone to stimulate the creation of the callus and help speed up the consolidation of the bone.
"The Surgical team involved at the Hospital General de Catalunya, Sant Cugat del Vallés were Doctors Joaquin Rodriguez, Marc Cots and Anna Carreras, anesthetists Doctors Angela Verde and Eric Alvarez and instrumentalists Cristina Gil and Laia Torrens. The operation lasted for two hours."
On Saturday evening, the Yamaha Factory Racing team rider announced on Twitter that he is planning to make his comeback after the summer break, at Indianapolis, for the tenth round of the season: 'To the people asking me about Laguna, I would like to say that I don't want to take more risk and (instead) have a good recovery. See you in Indy!'
However, on Sunday Yamaha Factory Racing released a statement explaining that no decision has yet be made with regards to whether or not Lorenzo will be contesting the Laguna Seca round, staged next weekend. His crew will travel to California and set up as per usual, should the rider decide to attempt an early comeback.
Show your support for Jorge Lorenzo by using Twitter hashtag: #GetWellSoonJorge
Latest news
Thursday, 19 February 2015

Wednesday, 18 February 2015

Tuesday, 17 February 2015

Thursday, 12 February 2015

Wednesday, 11 February 2015

Tuesday, 10 February 2015

Thursday, 22 January 2015

Thursday, 4 December 2014
Read more »