Lorenzo: 'Consistency key to winning world title'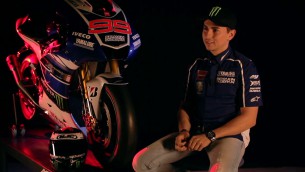 Jorge Lorenzo has stressed that regular top finishes will be a crucial element if the Mallorcan is to seal a third MotoGP™ world title this season. The feat would also make the Yamaha Factory Racing rider the first consecutive title winner for four years. He shared his opinions as the team launched its 2013 bikes on Friday.
In 2012, Lorenzo's lowest points were his crashes in the Grands Prix of The Netherlands and Valencia and only one was through a fault of his own. Other than that, the Spaniard racked up six race victories and ten second places.
There is just one winter test remaining and then we'll start playing harder. Are you satisfied with the Yamaha engineers work?
Yes, the engineers in Japan did a great job, especially with the new chassis. The new one allows me to pick up the bike easier exiting corners. Our main goal now is to improve the engine, which is what we are missing now to become even faster.
What is your M1 still missing to become the 'perfect bike'?
The engine is probably the weakest point we have now. Little by little we are trying new things that hopefully will allow us to increase our speed and accelerate more when I exit from the corners, which is the area we lose a little compared to our competitors. Anyway, compared to 2011 we are much better.
More so than the past, the coming season appears to be pretty tough. What's your opinion about your major rivals, Valentino, Pedrosa and Márquez, after the pre-season tests?
They are all really strong riders with a lot of experience. Lots of world titles all together!! Especially Valentino has 9 world titles and more than 100 victories, so he's really strong and complete. On race he can change his strategy so quickly. Pedrosa is really fast, not only on a single lap but also he has a very consistent pace throughout the race. Márquez comes from Moto2 with lots of energy, very aggressive and I think he has all he needs to be competitive in MotoGP from the beginning.
Last year your worst result was a second place. Was that the secret for achieving the title?
If you want to be World Champion you must be consistent. It's almost impossible to crash so many times and finally be the Champion. One of the keys to be World Champion is to finish all races, if possible. Last year we finished all races on the podium, apart from Assen, and Valencia where I had won the title already. In my first year in MotoGP, in 2008, I was not a consistent rider at all and after so many crashes and injuries I finally understood that I had to achieve this result.
How different is Jorge Lorenzo, the reigning World Champion, compared to the rider and person you were at the end of the 2010 season?
Well, only two years have passed, not so much time! A person in two years does not change so much. I always try to improve myself as a person and as a rider. As a rider, in 2010 I made an almost perfect season, scoring the point record but at that time my bike gave me a big advantage over the other riders. Last year, instead, I did not have such advantage and the season was definitely tougher than 2010. Luckily I had the mind cold enough to keep on being strong when the situation was difficult.
The first time you won the World Championship in 2010, you switched to the number 1 on the bike. Why haven't you this year?
The first time I became World Champion in MotoGP I switched to number 1 on my bike. I was so excited to use it, as it was the first time I could use it on my MotoGP machine, but at the end of the season it did not deliver me good luck, although I finished second, which is not a bad result at all. I got two world titles with the "99", the fans know me much better with this number and this year I have decided to use it again.
If you win the 2013 Championship you will equal Wayne Rainey's score with three world titles. Is this a stimulus for you?
Wayne Rainey is one of the legends of MotoGP and getting close to his number of championships is a great honour for me. Before that, we have to do it! Wayne is a good friend of mine and getting three times world champion would be amazing, like a dream. Much more than I could ever expect!
Does Valentino's arrival worry you or motivate you? How is your relationship with him now?
Probably our relationship is better than three years ago. Now we are a bit older, more mature, especially me, as I was only 20 when I arrived in MotoGP. We do not have to be friends, as motorcycle racing is not soccer or basketball, but if the relationship is good this is much better for us but also for the team. We will try to stay calm and to push together in the same direction.
What do you think Valentino's arrival will bring to the team and the bike?
Such an experienced rider like Valentino, with that special feeling he has on track, where he feels everything, will help the engineers at Yamaha and me, to understand if the feeling I have when I try something new on the bike is same as his. You know, if two riders have different feedback from the same material, then it's so difficult to develop the bike. In Sepang we gave our engineers the same feedback about the new material and this gives us confidence to improve the bike quicker.
Casey Stoner left and Marc Márquez has arrived. Who's going to be the strongest rival for you this year?
It's difficult for me to predict a major rival for this year. Maybe they will be faster than me! I don't know what's going to happen. Dani, Valentino, Márquez and I are the favorites but throughout the season surprises can happen. It's important to make a good job during the pre-season and try to be as well prepared as possible to start in the best way.
Besides Valentino but considering Márquez, it's going to be a "Spanish affair" this year. How important is it for you to be the first Spanish rider at the end of the season?
I think the riders with the same nationality have some special competition. We all want to be the best Spanish rider on track; it's like another League in the same Championship. Of course having so many Spanish riders with great potential makes our lives difficult, for all of us. Dani, Marc, Álvaro... they are so fast and it's so difficult for me to finish in front of them!
Did the renewal with Yamaha for two more years give you an extra motivation to win the Championship last year?
More than special motivation, signing the contract for two more years gave me the peace of mind I needed to focus on the Championship and allowed me to not think too much about contracts.
You signed with a new personal sponsor, Monster Energy Corporation, who has also been introduced as an Official Sponsor of Yamaha Factory Racing. Are you happy with the new agreement?
Yes, I am really happy to have signed a personal agreement with Monster and to be part of the Monster family. I am also very happy that Yamaha signed this agreement and I hope that together we can give them lots of special moments.
Recently we read in the press that you are considering retirement. Is this true? Is your career going to be as 'short' as Casey's or as 'long' as Capirossi's?
Actually I don't know why this was written in the press. My goal is enjoy MotoGP as long as possible. Last year I signed for two years with Yamaha but I would like to spend even more years with them. Hopefully if injuries respect me, I would like to stay many more years in MotoGP.
Should he clinch another crown this season, Lorenzo would become the tenth rider in history to claim a trio of premier class titles.
Press release courtesy of Yamaha Factory Racing
Latest news
Thursday, 19 February 2015

Wednesday, 18 February 2015

Tuesday, 17 February 2015

Thursday, 12 February 2015

Wednesday, 11 February 2015

Tuesday, 10 February 2015

Thursday, 22 January 2015

Thursday, 4 December 2014

Thursday, 27 November 2014
Read more »