Rossi half brother Marini ready for Misano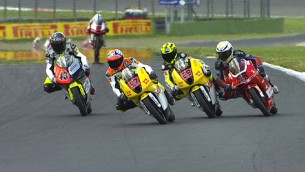 Misano may already be a special place for Valentino Rossi, but that unique feeling will only increase this year as half brother Luca Marini makes his World Championship debut in the Moto3™ class. The Twelve Racing rider, who is to compete as #97 with an FTR Honda, speaks exclusively to motogp.com.
Six podiums and second overall in the Italian championship, but you are lacking a victory…
That is what is missing this season, but we are confident that we can be in front of everyone for the last two races at Mugello. I still believe in winning the title and, for as long as it is mathematically possible, I will continue to try. I can do well at Mugello. 23 points of margin is a lot, but anything can happen in motorcycle racing.
Is there no big difference between your bike and the Mahindra, though?
There is a huge gap but I think they have found a little something in the engine that is allowing it to enjoy more acceleration; at least, that is what I appeared to be seeing at Imola. I do not think, however, that it is an extremely important factor, so if we work well we can bridge the gap and perhaps even negate it at Mugello.
And so you are officially confirmed as a wildcard for Misano…
We were not sure about doing the wildcard ride at Misano because it was vital that we sealed at least second place in the Italian championship, but the opportunity was there so the news did not surprise me that much. Obviously I'm happy to be going there; I will head to the track with the goal of working well, growing and getting as close to the front as possible. I want to be a better rider by the time the race has finished on the Sunday afternoon.
Could this Misano outing get your foot in the door for a full-time World Championship Moto3™ ride?
If we do well at Misano, it could definitely create World Championship opportunities. It is going to be very difficult, though, so for now it is better to put most emphasis on the Italian championship at Mugello and then we shall see. If I could win that title it would make it a little easier to switch to the World Championship, in terms of securing sponsors and a good team, but first you need to succeed…
There are already some capable Italian talents in Moto3™…
Among the Italians we have (Romano) Fenati and (Niccolo) Antonelli who are both very strong, but unfortunately at the moment there is a great difference between Honda and KTM. However, given a competitive bike, both could do well. I am more a friend of Niccolo's, simply because we see each other a lot, but I don't know who is really the strongest out of the two of them.
Could you say your number (97) is a kind of tribute to your half brother, as it is almost an upside-down 46?
It's just a coincidence. My dad and I only realized that later. When I was small and had to choose a number, I didn't know what to go for at my first race so I just decided on 97 – and that has stuck ever since.
How is the relationship with your half brother?
My relationship with Valentino is great and it always has been. What is clear is that, now that I am older, we see more of each other; we see each other every day and go to the gym together. The relationship has deepened now, but it has always been very good anyway.
Do you reckon he could fight for the MotoGP™ title again?
I don't know. Valentino could fight for the title again next year, as this season he has been a bit unlucky in some of the races. Then again, if he can up his consistency and throw in a pinch of luck, he could still do it.
If Valentino can't prosper this year, who would you like to see becoming World Champion?
(Marc) Marquez. He is a good guy, a great friend of my brother and you can just see that he will be capable of doing really great things both now and in the future.
Photos:
Latest news
Tuesday, 16 September 2014

Monday, 15 September 2014

Sunday, 14 September 2014

Saturday, 13 September 2014

Wednesday, 10 September 2014

Thursday, 4 September 2014

Tuesday, 2 September 2014
Read more »
Tuesday, 16 September 2014

Monday, 15 September 2014

Sunday, 14 September 2014

Friday, 12 September 2014

Wednesday, 10 September 2014

Tuesday, 9 September 2014

Thursday, 4 September 2014

Tuesday, 2 September 2014
Read more »