Marquez: "I don't want to think about the title"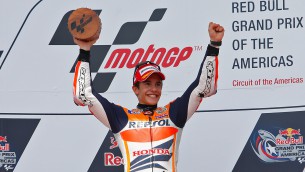 He left Barcelona as the impressive MotoGP™ rookie. One week later, Marc Marquez has returned to Spain as the youngest man to claim both pole position and race victory in the sport. Naturally, questions about the ultimate prize are already being asked, but the 20-year-old prefers to keep both feet firmly on the ground.
As others plugged into music players and in-flight entertainment on their trip from Austin to Barcelona via Atlanta, the Repsol Honda Team rider opened up a laptop. It was then that he reviewed his success from Sunday, frame by frame, finally breaking into his trademark smile as the chequered flag flew at Circuit of the Americas.
"It's sinking in a bit more now, but we certainly didn't expect to be winning only the second race!" Marquez told a gaggle of reporters in Barcelona Airport, having just made his way into the arrivals hall of Terminal 1. "We're making progress, step-by-step. We know the bike more now, although we must not forget that we're now heading to European circuits that all of the other riders know well and have previous data from. So that's going to be more difficult – but you can't always win."
Title winner of the 125 and Moto2™ classes of 2010 and 2012, respectively, Marquez now becomes the youngest ever MotoGP victor at the tender age of 20 years and 63 days. He could also become the youngest World Champion in the premier class, should he collect the crown either this year or before the end of next season.
"I don't want to think about that right at the moment," he is quick to state, looking to enjoy the present moment with his family. "To be honest, I think winning the title this year is practically impossible. We've started off in a good way, but those these two circuits treated me well. Now we're going to smaller tracks, which won't be so easy for me on a MotoGP bike – so I've got to get used to that quickly.
"I assure you that we'll be giving it 100% in every single race, but I do think the title is between Jorge (Lorenzo) and Dani (Pedrosa) this year – they're the strongest ones."
Marquez will now remain in Spain for longer than usual between races, as Round 3 of the World Championship takes place in Jerez, Andalucia next weekend.
Latest news
Thursday, 22 January 2015

Thursday, 4 December 2014

Thursday, 27 November 2014

Tuesday, 25 November 2014

Wednesday, 19 November 2014

Tuesday, 18 November 2014
Read more »