Marquez: I feel a little pressure…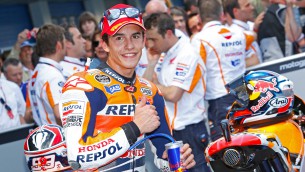 As the second half of the MotoGP™ season begins at Indianapolis this weekend, rookie Marc Marquez heads into the race as championship leader. Over the past two years in Moto2™ the Spaniard was never beaten at the historic Motor Speedway, but the Repsol Honda Team rider admits to feeling the strain…
You've won twice here at Indianapolis, but on the Moto2 bike. What is it about this circuit that suits your style? What do you like about this circuit?
Generally, I like the American style and we also go to another circuit that's in America (Laguna Seca). I feel good, especially here in Indianapolis as I have won for the last two years and that is good news because you feel a little bit different, but Indianapolis is always special anyway because of its history.
Casey Stoner has been developing the 2014 bike. How do you feel about that?
It's quite important for us. I haven't had any information about the Motegi test because I haven't spoken with the Japanese guys, but for sure Casey is so fast and he put the bike on the limit. I think it's important for Honda and for Dani (Pedrosa) as well, so testing with Casey will be important.
MotoGP bikes absolutely fly at Indianapolis, in terms of top speed. How fast is your bike going to be?
At Indianapolis we have one of the longest straights in the World Championship. I am yet to ride there on a MotoGP bike, but for sure we will be hitting around 340 or 350 (km/h), more or less. I didn't know exactly, but we will arrive quite quickly at the end of the straight. It's quite difficult because you get there with a lot of speed and the corner itself is also fast, so it's quite dangerous.
Are you surprised by all the success and does it catch you kind of by surprise that it's gone so well this season?
Yeah, I'm surprised. If I'm honest, I didn't expect that before the season. Okay, the target was especially to try to finish the races and get some points, and then to go a bit better before the first half of the season ended. Then the second part was going to be able aiming for the podium and winning some races, but I have already won three races; I didn't expect that to be before the season, but I think it's so good to feel like that on the bike because, right from the beginning, I have felt good and strong – that's good news!
Have you been taken by surprise by the reaction that you've had from people?
Yeah…you know, when you are in MotoGP, it's a different bike, a different team, a big factory and a different tyre. Also, off the track you have the fans, the people, the journalists and that is a big difference compared with Moto2 or Moto3. I still need to adapt a little bit to that because it's sometimes it's a bit too much for me but, you know, if you have professional people around you then it is always a bit easier. It's so important to have all of the fans, both to enjoy the good moments and get through those in which I am struggling a little bit more.
Which transition between classes did you find easier: from 125s to Moto2, or from Moto2 to MotoGP?
It's a bit different each time but, you know, I felt it was actually a bit easier to go from Moto2 to MotoGP. Maybe it is also because, when I went from 125s to Moto2, I was a bit younger and less experienced, so if you remember I crashed many times at the beginning – especially in the races themselves. Also, things have changed, because the 125s were two-stroke bikes and then we went straight to Moto2 which was a four-stroke engine, and that was a very big difference. Also, the weights of the bikes…125 was 70 kilos and then Moto2 was 140 – and that difference was maybe just too big. However, when you jump up from Moto2 to MotoGP, that difference is a bit smaller, which leaves you to understand the electronic parts, but it is easier if you have a professional team around you. I think the key was the pre-season because we did a lot of work and many tests in Malaysia; from that we were able to try many, many things and I started to understand a lot of stuff.
Engine braking is certainly also different between the two-stroke and the four-stroke. You guys are going to be heading straight back to Europe right after this race and then there is a big flurry of races coming on. This is part of the season when things get tiring, isn't it?
Maybe the hardest part of the season is coming up now, especially with these three races (back-to-back) between Indianapolis and Silverstone, so we will need to concentrate. I will just try to keep up my level, but I am also curious to see how my level stands against Lorenzo and Pedrosa who are now 100% recovered.
You have been training with dirt track bikes - something a lot of American riders would be interested in. Why are you using dirt track methods to train?
When I was younger, I liked it so much and I enjoyed it a lot. Already when I was six to ten years old, I did many laps on my track bike. In America it's more popular to dirt track than it is in Spain, but not a lot more. This season, I decided that I wanted to start again with the dirt tracking, because I like it and I enjoy it. You feel the bike a little bit differently; as you are going along and heading into a corner so fast, you need to stop, pick up the bike and go. That is more or less what you do in MotoGP; it is all about controlling the throttle and managing the bike through the corners.
Many of the riders, particularly the Yamaha riders, believe the Honda has an advantage in acceleration - and that turns into an advantage in top speed. From your point of view, sitting on the Honda, where do the Yamahas have an advantage, if any, over the Hondas?
This all depends on the circuits. Maybe where we have the advantage in acceleration, they have it in grip, but if you lose grip you can't always use all of your power. You just have to find the sweet spot in order to be there and be quick but, you know, Lorenzo and Valentino (Rossi) have been testing (during the summer break) and it looks like they tried their seamless transmission gearbox. These bikes are all quite close.
From the start of the season, you have spoken a lot about how much you have learned, such as in Qatar when you said you had learned so much by being behind Dani and Valentino. You learn very, very quickly. How much more do you think you have to learn?
I don't know! At the moment, I feel so good on the bike and at the last few races I have felt a little bit more free on it - and that is the most important thing. Okay, at the beginning of the season, I said that I felt I was learning many, many things about the others riders, but now I think we just need to do more laps and try to improve the bike little by little. Anyway, we will try to maintain this level. I am now understanding many things and I feel good on the bike, so it is all about finding the limit…
What do you think you still have to learn? Is there any one thing in particular, one area, where you think, 'I still need to understand this to get my full potential'?
I still need to improve a bit with extracting full performance from a new tyre in qualifying, as I'm still struggling a bit when on new tyres. It's all about using that performance as well as possible for a single lap in qualifying.
You mentioned earlier that you don't feel as much pressure as maybe Dani and Jorge do. Normally, we would see someone in their first year with the freedom to take each race as it comes and with no pressure. You are now leading the championship by 16 points going into the second half - does this affect your approach to each race as it comes along?
No. At the moment, the target and the mentality is completely the same as during the first part of the season. Okay, I feel the pressure a little because we are leading the championship…so you feel a pressure that you need to keep the level. But, anyway, I will try to prepare and to keep things level, but our mentality is completely the same as at the beginning of the season.
Just as a follow-up to that…thinking about your Moto2 race at Estoril in 2010 - when you came from the back of the pack on the restart to run second at one stage - your team put out a board saying that P2 was OK. Did you see that board before you took the win and, if you did, what did you think?
Yeah, I saw the board many times! The team and Emilio (Alzamora, former rider and personal manager) try to give to me what they think - but they don't know if I feel good on the bike or if I feel a little bit on the limit, or whatever. So, yeah, I saw the board many, many times. Sometimes it's important to see that, for them, they are seeing things a bit differently because of the championship, so P2 looks okay to them, but I always feel that, 'Okay, if I can win that race, why not?' I will always try, if you feel good with the bike.
What specifically have you been doing for training since Laguna Seca? A lot of guys ride bicycles…or has it been dirt tracking?
First, I had one week completely off. For that one week I tried to disconnect a little bit and tried to take some free time to relax. Then I came back and did a bit of biking, some running, some gym, some dirt track and, overall, all those kinds of things. In a way I just tried to work the same as I had during the pre-season because, up until now, it has been working well. So why would I want to change that?
Question and Answer session conducted by the Indianapolis Motor Speedway
Latest news
Thursday, 19 February 2015

Wednesday, 18 February 2015

Tuesday, 17 February 2015

Thursday, 12 February 2015

Wednesday, 11 February 2015

Tuesday, 10 February 2015

Thursday, 22 January 2015
Read more »