Marquez and Lorenzo put Jerez clash to bed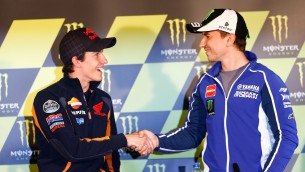 The Le Mans weekend kicked off on Thursday with the official pre-race press conference for the Monster Energy Grand Prix de France. It was not a great surprise to those present that the hot topic remained the last-corner clash of the Spanish Grand Prix between Jorge Lorenzo and Marc Marquez, who sat together on their flight back from Jerez.
Once the riders expressed their feelings ahead of what could be a somewhat wet weekend in France for the second year in a row, attention soon turned back to the Jerez coming together at the newly-named Jorge Lorenzo corner. Earlier today, Race Direction held a rider briefing (already planned before the collision in Spain), although the moment was discussed.
"My opinion?" Yamaha Factory Racing's Lorenzo began with a smile. "Well, I think I still believe that the action from Jerez was too hard. I still believe that today. I am not against Marc; I don't have anything against him because he is young and when you are young, you try - when you see a space, you try. In Jerez, he saw a space and he tried. But I do think that this year we have got the (new) license points and we are not using them at the moment, so in the future I would like Race Direction to use this new system. In my opinion, at least a minimum of points should have been used. So it would be some points, a yellow card or whatever you want, but something should have been used because, in my opinion, in a race it is possible to touch another rider but when you actually hit another rider it is a different thing. In my opinion, you should at least be penalised somehow."
Lorenzo also described how he had left the meeting slightly early:
"I thought the briefing was over and I left. Someone has to leave first, so I was the first one to leave."
Marquez was also asked to share his version of events, with almost a fortnight having now passed since the occurrence took place.
"For me, it's the same as I said in Jerez," commented the Repsol Honda Team rider. "If you do that on the first lap that is one thing, but in the end this is racing, it was the last lap and these are motorbikes. On many occasions we have seen things like that and in the end, when you see that, that is when the fans like it a little bit more. There is always a limit, but: last lap, last corner, if I see some space I will try. Okay, I braked a little bit later than the lap before, but these things happen sometimes."
The other riders present were also asked to share their views.
Dani Pedrosa, who was ahead on the track and taking the chequered flag:
"It was the last corner of the last lap. Jorge didn't close the door as he should have on the last lap and Marc maybe tried a little too hard…so they ended up being in the same place (at the same time). I have had some experiences before, with crashing and touching, so I think for the riders it is much better to have a feeling (idea) of where we can move and so on, because at the moment it is not so clear when you will be penalised and when you will not be."
Valentino Rossi, who had battled hard with Marquez in the season-opening Qatar Grand Prix as well as winning in Jerez in 2005 following a similar clash with Sete Gibernau:
"I think Marc rode very aggressively for all of the race, from the beginning. He was very aggressive also on the last corner, for sure. I also understand why Jorge is upset, for sure, because Marc touched him. But for me and in my point of view, something can happen at the last corner of a race and Jerez is also a classic point; not just between me and Sete, but also in the past between Doohan and Criville (1996) and some other hard battles on the last corner, because you arrive from a fast part and the hairpin is very tight, so the speed is very low and it's not very dangerous to touch each other. So I think it can happen on the last corner."
Cal Crutchlow, who finished fifth behind Rossi:
"It never really affected my race, so I don't really have too much of an opinion on it. They passed each other and Marc made a hard move, but at the end of the day I think it's very difficult to police this kind of thing and have penalty points, when every incident is different. There are many things that the championship and Race Direction are trying to do and I believe they are, but it's just difficult to understand where the limit is. But we're racing motorcycles and there are 25 guys riding around, so at some point in the year the main guys are going to hit each other - or at least touch. Was it over the limit? I don't know. I understand Jorge's point because at the time he lost second position, but I understand Marc is going for a space and a position. It's a difficult one from everybody's point of view and, also, Race Direction have a harder job than the riders because we just go for the gap that is there. Last year I did the same to Nicky on the first lap and, together, we said that 'Rubbing's racing' at that point. So, yes, there is a line, but nobody crashed, nobody was hurt and I think it needs to be forgotten about and carry on racing."
Randy de Puniet, who is racing in his home Grand Prix this weekend:
"For me, it's 50/50. Jorge was in front and he opened the door a little bit too much at the last corner. Marc was behind and he braked a little bit late; sure, he was aggressive all the race, but it's a race and this guy is fighting for the World Championship. For me it was a racing incident, nothing happened and that's it."
Marquez and Lorenzo went on to laugh about the fact that, by sheer chance, they were allocated seats just two apart on the flight back to Barcelona from the south of Spain.
"We were on the plane and it was a coincidence that we were in the same row," the 20-year-old continued. "He was sitting on the window, with my mechanic in the middle and me on the aisle seat. Then, when we finished the flight and everything, I tried to shake his hand and he gave me his hand, so we shook hands and that was the most important thing."
"I was the last one, as always," Lorenzo added. "I always wait for others to get off the plane and leave last - with any flight. But it was funny because the plane has 200 or 300 seats and we were in the same row, so it was funny. We didn't speak about the incident, we just spoke about unimportant things, and then finally I accepted Marc's handshake for the first time since the incident. But, I repeat, I do not have any problem with him personally. I just want to improve the safety of my sport and that must be the first priority."
The press conference came to a close with Marquez and Lorenzo publically shaking hands to a chorus of camera shutters.
Latest news
Saturday, 13 December 2014

Wednesday, 10 December 2014
Read more »
Thursday, 4 December 2014

Thursday, 27 November 2014

Tuesday, 25 November 2014

Wednesday, 19 November 2014

Tuesday, 18 November 2014
Read more »