Kallio achieves first Moto2™ pole position
Moto2™ is powered by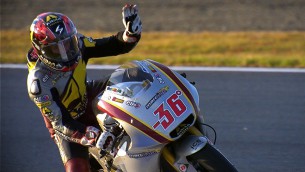 Saturday
, 26 October 2013
Mika Kallio will start from pole position for the AirAsia Grand Prix of Japan, picking up the top spot in Moto2™ for the first time. The Marc VDS Racing Team rider will share the front row with Xavier Simeon and Johann Zarco, while title contenders Tito Rabat, Pol Espargaro and Scott Redding line up sixth, seventh and 15th.
Ahead of Qualifying, there had been no track action for any category through a lack of visibility and heavy rain at Twin Ring Motegi. Eventually, the intermediate class had one hour of running time in which to set up bikes as well as posting lap times for grid position. On a mostly dry circuit as the sun began to set in Japan, Kallio topped the timesheets with 2'01.248, edging out Simeon by two tenths of a second; this marked Kallio's first pole since the 250 season closer in Valencia six years ago.
Less than one tenth of a second covered the riders filling spots two to four, with Simeon (Maptaq SAG Zelos Team) second as Zarco (Came Iodaracing Project) demoted Simone Corsi (NGM Mobile Racing) to fourth place in the lack knockings of the session. There was a top five effort from QMMF Racing Team's Rafid Topan Sucipto of Indonesia, while Tuenti HP 40 pairing Rabat and Espargaro will line up sixth and seventh from Technomag carXpert's Dominique Aegerter. The top ten was rounded out by Danny Kent (Tech3) and Mattia Pasini (NGM Mobile Racing).
It was a difficult day all-round for Redding. On Thursday, the erstwhile championship leader had been cleared to compete, having missed the last race in Australia after breaking his left wrist on the Saturday. In pain today, the Marc VDS rider rode to 15th position ahead of a day on which Espargaro could win the 2013 title; to claim the ultimate honour, he would need to finish inside the top seven, with Rabat not winning and Redding far enough behind to be left outside of touching distance. The current margin between Espargaro and Redding is 16 points, with a maximum of 50 remaining.
Sunday's Moto2™ AirAsia Grand Prix of Japan is schedule to commence at 12:20pm local time (GMT +9), being decided over the course of 23 laps.
Latest news
Wednesday, 17 September 2014

Tuesday, 16 September 2014

Monday, 15 September 2014

Sunday, 14 September 2014

Saturday, 13 September 2014

Wednesday, 10 September 2014

Thursday, 4 September 2014

Tuesday, 2 September 2014
Read more »
Wednesday, 17 September 2014

Tuesday, 16 September 2014

Monday, 15 September 2014

Sunday, 14 September 2014

Friday, 12 September 2014

Wednesday, 10 September 2014

Tuesday, 9 September 2014

Thursday, 4 September 2014

Tuesday, 2 September 2014
Read more »