Miller tops Warm-Up at damp Le Mans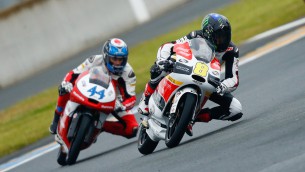 Jack Miller has led the Moto3™ pre-race Warm-Up session ahead of Sunday afternoon's Monster Energy Grand Prix de France. The Caretta Technology – RTG rider and teammate John McPhee sandwiched Mahindra Racing's Miguel Oliveira into second place as the whole field was tested by a distinctly greasy surface.
There was a short delay in starting the session as oil from a Friday afternoon support race had mixed with the water of overnight race and had to be cleaned from the Le Mans track. Once the session did start, the field slipped and slid its way around as Miller set the pace with a best effort of 1'55.728, with the conditions ensuring that this was almost 12 seconds slower than the pole position time.
Alex Rins and leading French representative Alexis Masbou completed the top five for Estrella Galicia 0,0 and Ongetta-Rivacold, respectively, from Team Calvo's Maverick Viñales who is the championship leader and this afternoon's pole-sitter. Rounding out the top ten were Niklas Ajo (Avant Tecno), Jakub Kornfeil (Redox RW Racing GP), Arthur Sissis and Zulfahmi Khairuddin (both Red Bull KTM Ajo). Both GO&FUN Gresini Moto3's Lorenzo Baldassarri and Ambrogio Racing's Brad Binder suffered falls during the 20-minute period.
The Moto3™ Monster Energy Grand Prix de France begins at 11am local time (GMT +2), as Viñales shares the front row with Oliveira and Folger.