Salom, Viñales and Rins set for shootout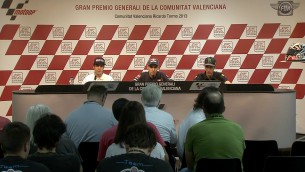 Thursday
, 7 November 2013
A special press conference was organised in Valencia on Thursday as Moto3™ title contenders Luis Salom, Maverick Viñales and Alex Rins shared their pre-race feelings. With just five points currently separating the trio, one will be crowned World Champion at the Ricardo Tormo circuit on Sunday afternoon.
With 300 points to his name, Salom (Red Bull KTM Ajo) heads into the shootout with the championship advantage, having won seven of the 16 races thus far.
"It was not lost in Japan, but almost!" Salom recalled of the previous race, staged at Twin Ring Motegi. "After the first crash, the bike had a bent handlebar and the clutch was not working well. The front wheel was a bit damaged as well, but I was still doing really good lap times but then crashed again. Everything then seemed lost for me, but in the end I have another opportunity and I will use it for sure.
"I want to say thanks to Maverick and Alex for making this championship so nice. I have enjoyed this year a lot and the position on Sunday won't matter. Of course I want to win if I can, but I won't mind about the position. But I will remember this season forever and will have always remembered fighting with them."
Viñales may have only two wins to name his name, but has demonstrated remarkable consistency across the campaign and now sits only two points behind Salom.
"I don't believe it!" he laughed. "Japan was incredible. This is an opportunity and we will try to do the best result and find the best setting for the race. We have worked really hard all season but this weekend we'll try to work even harder than usual.
"Winning is the only result we can do to win the championship. For sure, qualifying will be important, but the most important thing of all is to find a good setting for the final laps for the race. All of the riders try to stay calm…but now we all have a really good opportunity to win this championship."
Rins lies three points further in arrears, five behind the championship leader, and has won on six occasions so far this year. Based on results so far in 2013, it would appear as though he is the rider most likely to have a teammate alongside in the leading group - prompting questions over whether Alex Marquez will be assisting.
"Motegi was difficult for my team and I," the Estrella Galicia 0,0 rider begins. "Knowing Salom had crashed, it obviously would have been better to finish the race, but I crashed. Having said that, it will be more spectacular here in Valencia – more people will come! My team and I will try to work in the same way as we have at other circuits – and that's it.
"Maybe (Marquez) will help me and it would be better for me. I think he will go very fast here because in the last race he did a good job, but we will see. I am a little bit nervous but I want to take it calmly."
Sunday's Moto3™ finale begins at 11am local time (GMT +1).