Positive Wednesday for Yamaha Factory Racing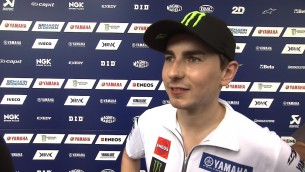 Wednesday
, 27 February 2013
Yamaha Factory Racing and Jorge Lorenzo moved atop the timesheets as MotoGP™ pre-season testing resumed in Malaysia on Wednesday. The reigning World Champion delivered his fastest ever lap at the Sepang International Circuit as teammate Valentino Rossi recovered from an electrical issue.
Lorenzo led the way with his best effort of 2'00.282, which was just under four tenths of a second quicker than Repsol Honda Team's Dani Pedrosa.
"The track was much better than yesterday, which surprised me a lot right from the beginning," Lorenzo said in an exclusive video interview with motogp.com. "That allowed me to be stronger right from the beginning so we're very satisfied with the improvements we're making with the settings. On top of that, I feel stronger as a rider than the first Sepang test so I'm very satisfied."
Rossi's initial electrical issue related to a coil, but the Italian was soon on-track and was one of the first riders to complete 60 laps.
"I'm happy, the feeling is quite good," confirmed the nine-time world champion. "Today was a very long day; I did more than 60 laps because we had a lot of work to do. We continued to work to increase the rear grip and traction, especially when the tyre has a lot of laps on it. We found something but we are still not 100% happy, as we lost a little of the balance in the bike. Tomorrow the target is to improve the traction without losing the balance and then the bike will be very good."
While Rossi focuses on balance tomorrow, Lorenzo is aiming for a long run of approximately 24 laps in order to measure tyre performance.
Latest news
Wednesday, 17 September 2014

Tuesday, 16 September 2014

Monday, 15 September 2014

Sunday, 14 September 2014

Saturday, 13 September 2014

Wednesday, 10 September 2014

Thursday, 4 September 2014

Tuesday, 2 September 2014
Read more »
Wednesday, 17 September 2014

Tuesday, 16 September 2014

Monday, 15 September 2014

Sunday, 14 September 2014

Friday, 12 September 2014

Wednesday, 10 September 2014

Tuesday, 9 September 2014

Thursday, 4 September 2014

Tuesday, 2 September 2014
Read more »