Rins masters challenge for Motegi pole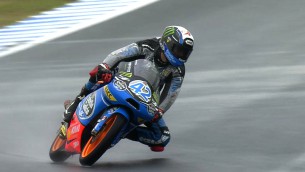 Saturday
, 26 October 2013
Fresh from his victory in Australia last weekend, Moto3™ title contender Alex Rins has taken pole position for the AirAsia Grand Prix of Japan. The Estrella Galicia 0,0 rider sealed the top spot for the seventh time this season as the field was presented with an unprecedented challenge, having not taken to the track before Qualifying.
In highly unusual situation, Moto3™ Qualifying signaled the first track action of the weekend at Motegi, with all Friday action plus Saturday morning practice having been called off due to poor visibility and wet weather. Qualifying began at the slightly delayed time of ten to one; with 55 minutes on offer, the riders were challenged with adapting to track conditions as well as attempting to post lap times for grid position.
With the circuit already wet when the green light illuminated, further late rain helped to cemented pole in the form of Rins' best effort of 2'09.387 – 11 seconds off record pace. On Sunday, the Spaniard will aim to overhaul compatriot Luis Salom in the championship table, having already moved to within five points of the leader. Rins will be joined on the front row by fellow title challenger Maverick Viñales (Team Calvo) and Estrella Galicia 0,0 teammate Alex Marquez.
Championship leader Salom (Red Bull KTM Ajo) will start fourth, joined on the second row by Caretta Technology – RTG's Jack Miller and Ongetta-Centro Seta's Isaac Viñales. Niccolo Antonelli and Jonas Folger will line up seventh and ninth for their respective GO&FUN Gresini Moto3 and Mapfre Aspar Team Moto3 outfits, while Japanese wildcards shone as Hiroki Ono (Honda Team Asia) and Sena Yamada (Team Plus One & Endurance) qualified eighth and tenth. Fellow countryman Hyuga Watanabe also enjoyed a strong day, managing 12th place for La Fonte Tascaracing.
Some qualified lower than expected, but could be ones to watch in Sunday's race which is forecast to take place in dry conditions. Mahindra Racing's Miguel Oliveira and Efren Vazquez could muster no more than 18th and 21st, while Red Bull KTM Ajo's Zulfahmi Khairuddin and Arthur Sissis will be looking to rise from their corresponding 13th and 19th places. Several riders were caught out by the wet surface, including Rins who slid off-track at the end of the session but had already sealed pole.
Sunday's Moto3™ AirAsia Grand Prix of Japan is scheduled to begin at 11am local time (GMT +9), taking place over the course of 20 laps. Salom could win the title this weekend, but would have to win the race with Rins finishing 11th or lower.
Latest news
Thursday, 19 February 2015

Wednesday, 18 February 2015

Tuesday, 17 February 2015

Thursday, 12 February 2015

Wednesday, 11 February 2015

Tuesday, 10 February 2015

Thursday, 22 January 2015

Thursday, 4 December 2014

Thursday, 27 November 2014
Read more »