Being Valentino Rossi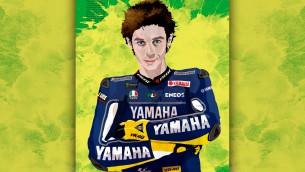 Valentino Rossi's high-profile return to Yamaha has raised more than a few famous eyebrows, not just in his homeland but all over the world. Many want to be him, or at least boast such motorcycle-riding talents. Italian magazine Riders has put together a feature dedicated to 'The Doctor', sharing the feelings of well-known names from all corners of the globe.
Rossi's Yamaha comeback, coupled with his encouraging results in testing so far this year, have rekindled a light that never went out for the legions of number 46 followers. Quite simply, many just never lost faith in the nine-time world champion. This is very much confirmed in the March edition of Riders.
The support has come flooding in for a competitor who sparks passion in abundance. They range from Hollywood actors such as Daniel Day-Lewis and Brad Pitt to Italian celebrities and a selection of institutions, colleagues, friends, sponsors and fans.
"He's an idol for me," says Pitt, who last visited the MotoGP paddock at Mugello in 2008. "I would give anything to be him. He's got speed and balance – pure art. To watch him is like reading a poem." Day-Lewis describes the Italian as 'a genius'. "(A rider's) work requires both discipline and a wild spirit. He has his practical side, but at the same time there is something there that is simply intangible."
"I appreciate what he is a lot," adds Oliviero Toscani, iconic Italian photographer. "He is undoubtedly one of the Italian maestros; firstly with the way he rides a motorcycle, of course, but also by that way he talks. He has a great sense of humour and, even when explaining why something might be wrong with his bike, he's doing it while smiling. A great man and a real inner fire. I can only dream of a lap on a motorcycle with him..."
The next words came from a man who may be found a little closer to the paddock.
"I've been a fan of yours since childhood," says Andrea Iannone, who this year contests MotoGP alongside Ben Spies at Pramac. "I have always followed you with admiration. You're the real protagonist. A person to be admired both on and off the race track. I guess that is why I, like many others, consider you a hero of my generation."
Even the Mayor of Florence and somewhat a celebrity himself in Italy, Matteo Renzi, has donated a message for Rossi. "I remember the difficult days in June 2010: his accident at Mugello and subsequent hospitalisation in Florence," he recalls. "But I also remember that ability to return to competition so quickly. That was a victory in itself – and one achieved with a smile. A smile we all want, to be able to dream of a beautiful future."
Oakley and Bridgestone are not lacking in motivation, either, but perhaps the most important message comes from the man with whom Rossi has experienced the highs, lows, victories and defeats and always had alongside:
"Do what you like with Valentino, but there's always a fun and light side," explains Davide Brivio, advisor to Rossi and former Team Manager at Yamaha. "Of the thousands of moments we've spent together, the most recent that springs to mind is his great joy of re-signing with Yamaha. At the Monza Rally (which Rossi won)…I hadn't seen that smile for two years. Now he's rediscovered his motivation and desire to fight - and to be in there with a chance…"