Rossi leads tributes to Simoncelli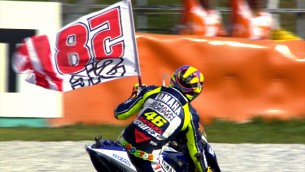 Marco Simoncelli was at the forefront of everybody's mind as the MotoGP™ community travelled to Sepang without him for the second time. As compatriot and close friend Valentino Rossi proudly completed his slowing-down lap with a flag bearing #58, thousands remembered 'Super Sic' in the form of a parade run at Brno.
He may have missed out on a rostrum finish at Sepang, but that didn't stop Rossi from being centre of attention as he displayed the flag less than two weeks before the second anniversary of Simoncelli's passing. As some 80,000 fans applauded in emotional recognition, Rossi explained the thinking behind the action.
"Mechanics and friends of Marco asked me if I could do something to remember him by, not least as they were convinced I would finish on the podium," explains Yamaha Factory Racing's Rossi, who would eventually end the race in fourth position. "I also had a hope of doing so, so we thought we would make a flag honouring 'Sic'."
This would not be the first Marco Simoncelli tribute over the weekend, as on Friday evening Fausto Gresini and members of his team, plus Repsol Honda Team's Livio Suppo and Dorna Sports' Carmelo Ezpeleta, took time to place a bouquet of flowers at Turn 11, where Simoncelli's untimely accident had occurred in 2011.
Later on Sunday, far away from sultry Sepang, almost 3,000 riders participated in a parade run at Brno in the Czech Republic. The event, staged for the second consecutive year, saw the public enjoying two laps of the Grand Prix circuit as well as setting a new record of 2,988 for the number of motorcyclists on the Brno track.
Latest news
Wednesday, 22 October 2014

Saturday, 18 October 2014

Thursday, 16 October 2014

Wednesday, 15 October 2014

Saturday, 11 October 2014
Read more »
Wednesday, 22 October 2014

Saturday, 18 October 2014

Thursday, 16 October 2014

Saturday, 11 October 2014
Read more »