Terol leads morning practice in Austin
Moto2™ is powered by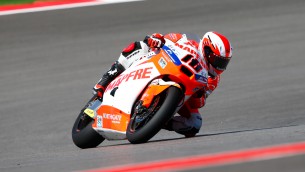 Nico Terol has topped the first ever Moto2™ session to be staged at Austin's Circuit of the Americas, leading the opening practice period on Friday morning. The Mapfre Aspar Team Moto2 rider topped the timesheets from Technomag carXpert's Dominique Aegerter and Italtrans Racing Team's Takaaki Nakagami.
45 minutes was on offer for the 32-rider field to learn the track, which becomes the first of three American venues to welcome the sport this year. Situated approximately half an hour's drive outside of downtown Austin, the Hermann Tilke-designed track is the first on this season's calendar to sport an anti-clockwise direction.
Losail podium finisher Takaaki Nakagami led the way for much of the session, although the Japanese rider was eventually bumped down to third spot by Aegerter – who had escaped a touch with Blusens Avintia's Toni Elias - and Terol, whose session-leading lap time came in the form of 2'15.103. Not a single rider suffered a fall, although Terol had escaped a small off-track excursion earlier on.
Jordi Torres was fourth, promising an encouraging weekend for Aspar, as NGM Mobile Racing's Simone Corsi and QMMF Racing Team's Anthony West completed the top six. Xavier Simeon was next up for Desguaces La Torre Maptaq as Randy Krummenacher, Esteve Rabat and Alex de Angelis rounding out the first ten for Technomag, Tuenti HP 40 and Forward, respectively.
Tuenti's Pol Espargaro was conspicuous in the top ten by his absence, as the Qatar winner and pre-season title favourite ended the first session of the weekend in 12th place. Even further down the order was the rider who had fought him so intensely for the Losail victory, as Marc VDS Racing Team's Scott Redding placed 23rd.
Free Practice 2 will start at 3:05pm local time (GMT -5), ahead of the final practice period and all-important Qualifying which are to be staged on Saturday.
Latest news
Wednesday, 17 December 2014

Saturday, 13 December 2014

Wednesday, 10 December 2014

Saturday, 6 December 2014
Read more »
Thursday, 4 December 2014

Thursday, 27 November 2014

Tuesday, 25 November 2014

Wednesday, 19 November 2014

Tuesday, 18 November 2014
Read more »