Yamaha, Honda and Suzuki all set for testing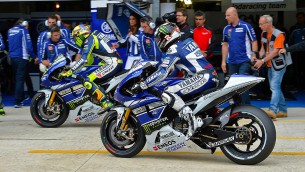 Yamaha Factory Racing, HRC and 2015 returnees Suzuki will be on-track across Tuesday and Wednesday, with a pair of test sessions taking place at Motegi and Brno. While the likes of Jorge Lorenzo, Valentino Rossi and Randy de Puniet return to action during their summer break, Casey Stoner will be back on a MotoGP™ bike for the first time since November.
At Brno, scene of the upcoming bwin Grand Prix České republiky on 25th August, Lorenzo will be hoping to fair better with his recovering left collarbone. Rossi, on the other hand, is looking to make further strides with bike setup as he looks to capitalise on podium finishes from the last three races. It is also possible that both riders could sample seamless transmission, a system already raced by rivals Honda and which Yamaha could debut this season providing it is fully happy with its safety.
Some 9,000 kilometres away in Japan, Yamaha will also have a presence at the Twin Ring Motegi courtesy of Test Team representatives Katsuyuki Nakasuga and Wataru Yoshikawa. Further up the pit lane, Stoner - World Champion of 2007 and 2011, respectively - will be back on HRC MotoGP™ machinery for the first time since the season-closing race of 2012 in Valencia, keen to satisfy his thirst for riding Grand Prix machinery.
Suzuki will continue to work with Randy de Puniet, again assisted by Nobuatsu Aoki.
"We are still in the testing and development stage of the bike," Davide Brivio, Team Manager of Suzuki, explains to motogp.com ahead of the test. "We will continue working with the data we collected at the previous tests of Motegi (in May), Barcelona and Aragon. The development has not stopped and this week we are going to try out various setups and continue to work on the electronics, chassis and engine packages in order to find further improvements in performance."
In terms of the Electronic Control Unit (ECU) Suzuki is using, Brivio continues:
"We are still working with Mitsubishi on the bike, but analysis of the (compulsory) Magneti Marelli unit remains in progress. It is still not ready to be fitted to the prototype, but it will be in the near future."
Having been in Japan since Friday of last week, Brivio has already taken the opportunity to travel to the company's Hamamatsu headquarters in order to begin planning for upcoming test sessions.
Latest news
Thursday, 22 January 2015

Wednesday, 21 January 2015

Wednesday, 14 January 2015
Read more »
Thursday, 22 January 2015

Thursday, 4 December 2014

Thursday, 27 November 2014

Tuesday, 25 November 2014

Wednesday, 19 November 2014

Tuesday, 18 November 2014
Read more »