Viñales raises the bar further at Indy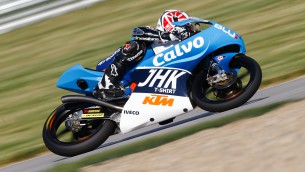 Having topped the opening day of Moto3™ practice at the Red Bull Indianapolis Grand Prix, Maverick Viñales increased the pace by finishing quickest in third practice on Saturday morning. The Team Calvo rider topped the timesheets from Red Bull KTM Ajo pairing Luis Salom and Zulfahmi Khairuddin.
Thanks to bright conditions which warmed up the track, Viñales easily established a new unofficial lap record for Moto3™ thanks to his best lap of 1'48.060.
Championship leader Salom was two tenths of a second slower, while the top five was rounded out by the aforementioned Khairuddin, Mapfre Aspar Team Moto3's Jonas Folger – who topped first practice on Friday – and Mahindra Racing's Efren Vazquez.
Heading towards qualifying, riders experimented by running in the slipstream of rivals on the start/finish straight. While Vazquez fell when the Spaniard lost control at Turn 4, quickly rejoining to post his top five effort, Sachsenring race winner Alex Rins was sixth for Estrella Galicia 0,0.
Completing the top ten were Jack Miller (Caretta Technology – RTG), Alexis Masbou (Ongetta-Rivacold), Alex Marquez (Estrella Galicia 0,0) and Eric Granado (Mapfre Aspar Team Moto3). Jules Danilo backed up the field as he temporarily covers for the ousted Danny Webb at Ambrogio Racing.
Moto3™ Qualifying begins at 12:35pm local time (GMT -4).
Latest news
Monday, 29 September 2014

Sunday, 28 September 2014

Saturday, 27 September 2014

Friday, 26 September 2014

Wednesday, 24 September 2014

Monday, 22 September 2014

Friday, 19 September 2014

Wednesday, 17 September 2014

Tuesday, 16 September 2014

Monday, 15 September 2014
Read more »