Viñales talks rivals, strategy and a new calm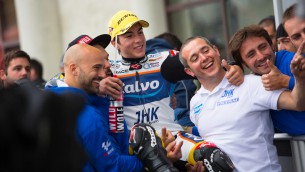 Team Calvo's Maverick Viñales is currently in his third year in the World Championship and contests his second season in Moto3™ aboard the KTM of Team Calvo. After loosing a fingertip in pre-season testing, he has made quite a start with four podiums and two wins. motogp.com caught up with the Spanish youngster ahead of Mugello where he spoke about his season so far, his rivals, and a new found calm.
"I think more rivals will come, but we are keeping the bar high. Luis [Salom], Alex [Rins] and I are always at the limit. It's great being with riders that fast because they bring up the level.
"I have evolved significantly, especially learning to take things more calmly. The team is also helping me to be calmer, and especially to read the races.
"We're in a good place, I have a lot of confidence, and the finger is healing very well. Every time I feel better on the bike, and I'm regaining the confidence I lost in the Jerez test. I think if things continue like this, it will be unlikely for us to be off the podium – we always try to be on the podium.
"I see two main rivals that are tough to beat. Both Luis and Alex are very fast riders, who have a very high limit. I think the most difficult to beat in a final round is Salom, because he attacks more under braking, but Alex is very fast and can surprise you, change the pace, and do what I did in Le Mans
"Now I think more on the bike, and even make strategies. At Le Mans I had a pretty good strategy. I think I learned a lot in Jerez, I kept my rhythm and rode my own race…and then what happens, happens. I have no secret.
"I hope I can take the title at the end of the season, but it's still a long way off, and there's a lot of work to do. I'm not thinking of Moto2 - I'm already thinking about Mugello and how I can improve things."