Lorenzo 'feeling good' as Rossi tries two bikes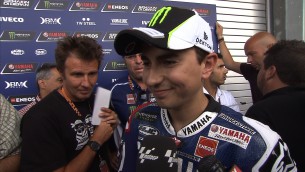 Jorge Lorenzo may not yet be fully recovered, but the MotoGP™ World Champion was pleased to report that he was feeling far better on Friday than at the last race before the summer break. He ended the first day of Indianapolis practice in fourth place as teammate Valentino Rossi experimented with various setups.
On Friday Lorenzo was the leading Yamaha runner in fourth place, having raced to a highly difficult sixth last time out in California; this had followed two heavy accidents as Assen and the Sachsenring which both damaged his left collarbone.
"The collarbone is feeling good - it's not 100% yet but it's close," the Mallorcan began. "It doesn't give me too many problems to ride at a high level. We are still very far from the track record and the track is still quite slippery. Compared to last year I think we are going to have less problems to fight for the podium. I won here in 2009 but usually it's not so easy for me; sometimes the other Yamaha riders are faster than me but so far it's a good start.
"This morning the track conditions were better than I expected and then improved further over the day, so this afternoon all riders improved their lap times. We still have some problems, especially in braking, but I think our margin can be improved quite a bit. We didn't do so many laps in the afternoon; I wanted to make more but firstly the red flag cost us time and then at the end I found so many CRT bikes that it was hard to get clear laps."
Yamaha Factory Racing teammate Rossi won at the legendary speedway in 2008, becoming the rider to have won most premier class races thanks to his 69th success. Today, his programme revolved around several bike setup assessments.
"I had two different bikes to try and improve the feeling in braking and (corner) entering," the Italian explained. "We did two different comparisons and at the end we decided the way to go. Tomorrow we will concentrate on that bike to try to fix some problems with understeer and a bit too much pushing on the front, especially in two or three entries that are very difficult. In general I am quite happy."
Last year at Indianapolis, Lorenzo finished second to Repsol Honda Team's Dani Pedrosa as Rossi – then racing for Ducati Team – crossed the finish line seventh.