A Post-season Catch-up: Michael Laverty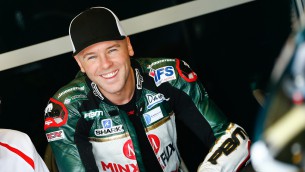 Michael Laverty hit the World Championship stage in 2013, enjoying his first taste of MotoGP™ and scoring points in the process. Heading into his second campaign with PBM, the Northern Irishman is looking to step things up a gear. He spoke to us at last weekend's Motorcycle Live show at the Birmingham NEC.
Michael, please select one good and one bad moment from your 2013 season…
The good moment was scoring points in Jerez. At that stage, we were quite strong in the CRT rankings and I was passing guys like Colin Edwards and Claudio Corti – it was nice to be battling with them. The negative side was, having battled with those guys, they would move on during the season and we didn't which left us in a sort of no man's land for the second half of the year.
How did you find the whole MotoGP™ environment?
It was good. For me, it was always brand-new at every race and every circuit - finding out new things and meeting new people. It was all foreign to me but I really enjoyed it and look forward to next year, now I know the ropes and all of the countries; where to get everything and so on, which will make the job so much easier.
On the whole it was good fun as I've been a fan of MotoGP™ for years, so to be on the other side of the fence and to be welcomed into it was great. There is a bit of a language barrier at times, but English is still the main language of the paddock so you can manage quite well with that.
In terms of bikes, you began the year on the all-new PBM machine but switched to the team's ART chassis when Damian Cudlin joined you in Aragón. How did you view that situation?
It was funny how it came about. As I said earlier, we kind of stagnated a bit with the PBM bike, so when I tested the ART at Misano the day after Yonny (Hernandez) left we kind of realised that it did a few things better than the PBM. So, the ART was more competitive, which left Damian to get on the PBM to give us a second perspective. It was good because Damo backed me up on a lot of the things he was saying about it and also gave a good impression of his own.
How did the Valencia test go? Anything significant?
I jumped back on the PBM bike and it had improved so much – that was nice and it was even more competitive than the ART on a single lap around Valencia. In fact, by then the PBM machine was over a full second quicker than the 2012 ART over the course of one lap, so it was good that the PBM had taken that step forward. The whole situation about swapping riders around bikes may have looked funny from the outside, but it was a clever move by the team.
Bearing in mind what you have experienced in 2013, how might you adapt your approach heading into the new campaign?
It is going to be a lot easier. If we continue with the PBM bike, I now have a clear picture on what changes I need in place for Sepang and some more horsepower from the Aprilia engine, for instance. Training throughout the season will be easier as well; things will just be able to flow a lot better and I'm looking forward to that. Also, I will stay out in Malaysia between the two Sepang tests in order for some extra training and that will make things a lot easier.
What is the Michael Laverty target for 2014?
We should be back with the PBM chassis and the new Aprilia engine. I will be aiming for consistent points scoring – I do think that is a realistic target.
I would love to say top tens finishes, but that is not realistic right now. I think we have got to target the 'Open' Hondas and I do think scoring points will be possible. The team and I were clearly frustrated last year, but now we have a better picture and clearer goals for the season ahead; we want to get more points on the board, or else we risk losing funding for 2015.
Do you have much planned for this off-season period?
Yeah, we have actually got a big family trip booked up for the New Year. (Brother) Eugene actually made the most of his end-of-year bonus from World Superbikes, so all of the family and their partners are looking forward to a trip away in a five-star chalet! So it will be a bit of family time and training, away in Wales with (partner) Jodi, then Christmas goes by. That will be followed by a bit of skiing and then, before you know it, you are back on-track in Malaysia in February!
Latest news
Saturday, 18 October 2014

Thursday, 16 October 2014

Wednesday, 15 October 2014

Saturday, 11 October 2014

Wednesday, 1 October 2014

Monday, 29 September 2014
Read more »
Saturday, 18 October 2014

Thursday, 16 October 2014

Saturday, 11 October 2014

Wednesday, 1 October 2014

Tuesday, 30 September 2014
Read more »