A Post-season Catch-up: Tito Rabat
Moto2™ is powered by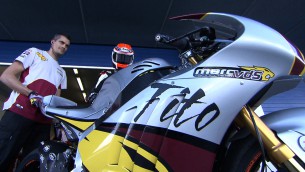 Thursday
, 5 December 2013
Tito Rabat shot to the forefront of the Moto2™ field in 2013, triumphing in three Grands Prix as well as enjoying a further four podium finishes, two pole positions and a total of seven front row starts. Now moving from Tuenti HP 40 to Marc VDS Racing Team, the Spaniard looks back at the year gone by and ahead to the next.
Tito, this has been a very significant year for you, for different reasons…
Yes, this has been a very complete year for me. Right from the beginning, I learned to do good races and win races, achieving podium finishes with some regularity.
I also experienced the pressure of trying to win the title and made many mistakes because of that, but in general I ran at the front in many races and had many battles with Pol (Espargaro) and with (Scott) Redding. It was a transitional year, as I started to win races and that was a big difference.
Tell us about the part of the season in which you lost your opportunity for the title, during the Asian triple-header…
At the beginning of the season, my objective had been to finish it in the top five. After that, once the season started to go by, I realised that I could make things better, then better, then better again.
After Aragón, when I finished second with Pol third, I thought [smiling], 'Maybe I can win this championship!' Then I had a really good race in Malaysia as well and, after that, it looked even better and I thought, 'I really could win!'
Then came Phillip Island and it was still non-stop learning…I was a little bit nervous and made a lot of mistakes, running straight on (off-track) after the home straight. This is what happens in your first year of running at the front of races.
I will just take away the best things from the season: I have learned how to win and how to be strong in every practice session and every race. This is what I will keep in my mind.
How is the situation after the first test with your new team and what plans do you have to improve the bike over the pre-season?
Having the team based in Belgium is not a problem. I went for dinner with them last week and it was very good. From that point of view, things are the same. You wouldn't go to see the team in Belgium in the middle of the season anyway; you obviously see them at the circuit. My life itself is the same in that respect.
We had a very good test in Jerez. It was two days and I was able to translate and pass the information I needed to the crew. There is a good relationship between myself and the crew, as well as with my teammate Mika (Kallio); we work well together. I am very happy with the pre-season so far and now we will try to keep up my performance and improve on that further for Qatar.
There is really no difference, with the team situated in Belgium while you live in Spain?
It is the same, really. Life is the same. I live in Barcelona, I go to the gym and I to go Almeria on the weekends I can. You only go over to Belgium for perhaps a meal with the team, but that would only be about twice every year. My life is the same and I am very happy with the people I have met in this team; they are real passionate races, just as I am. That is all very good.
Who do you expect to be your main rivals next year?
The first rival is myself! I think I will have a really good opportunity to win next year. Or course, I need to keep pushing as I am now and as I was last season, but I think I will have a lot of rivals.
Luthi, for example, had a fractured shoulder this year but next year he will be very strong. Mika has been in Moto2™ for many years, Maverick (Viñales) fights every race – as he has done from his very first race in 125s and, for sure, he will do the same in Moto2™. So, I have a lot of rivals!
I will just keep pushing; believing in myself, focusing on myself, trying to improve my bike, trying to have a good relationship with my team and improving our communication. For sure (if we can do all of that) we will have a very good season.
What is your plan for the winter, in the way of fitness and holidays?
Not such a big holiday, but the plan is very intense [laughs]! I will definitely be in the gym a lot and doing a lot of dirt tracking. Actually, we have many races to do – maybe four! Two in cars and two on a motocross bike. So, it will be about keeping up with all of that and just enjoying it [smiles]!
Photos: