Aleix Espargaro: 'We will be fighting for podiums'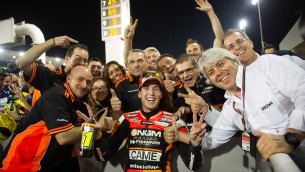 Seen very much as the revelation of the pre-season in 2014, Aleix Espargaro experienced a dramatic opening race to the campaign in Qatar. The NGM Forward Racing rider now discusses the events of Losail, recent surgery, his own aspirations for the season and the premier class arrival of younger brother Pol.
Quickest across the opening three practice sessions in Qatar, the elder of the two Espargaro brothers was a favourite for pole position before crashing both of his bikes in qualifying. He would finish Sunday's race fourth from ninth on the grid, which was still his best ever race result in the premier class. After returning to Spain, there was an 'unimportant' operation in Barcelona after which Aleix was obliged to rest up until Monday – perhaps easier than usual, as the weekend weather was rather poor.
Aleix, what happened in Qatar to have to undergo surgery in Barcelona?
The operation had nothing to do with either of my crashes. It was actually from the first practice session on Thursday, when a toe nail went through some of the skin. Dr. Xavier Mir looked into it, so I was able to continue riding over the weekend, but with my racing boot on it hurt a lot. Back in Barcelona he had to open it up, cut the nail down to the root and put some stitches in to close up the wound. It's only a small thing, but obviously quite annoying because I can't walk properly at the moment.
You had a real roller-coaster of a weekend: dominating the practice sessions, the two crashes in qualifying and then managing to finish the race fourth…
I am pleased with how things began, topping those first three practice sessions and maintaining a good rhythm all weekend-long. Perhaps thanks to the nerves (and it being my first big opportunity to clinch pole position), I made two big errors in qualifying. That meant I started much further back on Sunday and, on top of that, I had destroyed both of my bikes; I therefore had to race with a rebuilt bike and it didn't feel very comfortable. Despite that, I managed to calm myself down for the race to finish fourth and pick up 13 points. But, yes, it is clear that the rest could have been so much better had it not been for those two critical mistakes in qualifying.
So, you reckon you could have been in the group with Marquez, Rossi, Pedrosa, Bautista and company, battling for the podium?
Yes, I do think I would have been battling with them if I had started further up the grids. Over the race my pace was similar to Marc (Marquez) and Valentino (Rossi), but I was stuck amongst the Ducatis and losing ten to 15 kilometres per hour to them down the straight. If I had started with the front-runners, I would have been able to make up for that loss of straight-line speed by getting in the slipstream. Anyway…I did make those errors on Saturday and I paid the price, which was a shame. We'll just have to try and go for it again in Texas.
What are the main conclusions you have drawn from Qatar?
That we must learn from our mistakes! If I can take a positive from the crashes on Saturday, it is that they made me calmer on Sunday and I didn't fall again. You have to get on top of your nerves. Perhaps next time, I could approach it in a calmer way and not necessary push for pole position, but just a place on the front row.
The Open format has worked very well for you so far. However, with Qatar you had tested there for three days before the Grand Prix. That will not be the case for the second race of the season in Texas – it could be more difficult…
Well, it's not just my Open bike that is going well. I have the same bike as Colin Edwards, while the Hondas of Abraham, Aoyama, Hayden and Redding are only losing about three or four kilometres an hour to us. I believe all of the Opens can still get much closer to the group at the front, with each team and rider obviously establishing their own pace. In our case, although without doubt it will not be easy, I think we can fight for the podium at many circuits. We have to rack up loads of points this year because I am aiming to end the season inside the top six of the championship. At the moment we are fourth, so we are on the right track!
The next challenge will be Circuit of the Americas in Texas – the home of your team-mate Colin Edwards. Incidentally, he helped you a lot in lending bike parts after your two crashes in Qatar. What do you expect, heading to Austin?
I am very pleased to have a team-mate like Colin. The experience is obviously helping me a lot and I wasn't just happy in Qatar because he had lent me those bike parts. He is helping me a lot in the difficult moments - more than anything because he has already lived through a lot of the things I am now experiencing for the first time. For instance, over the Qatar weekend we had a lot of fuel consumption problems because the fuel tank wasn't quite working as it should have. Colin took care of it, though. Texas will be a tough one as there is the very, very long (1.2-kilometre) back straight and we know we will suffer in that area; at least until we get to Jerez, when some new fairings will arrive. In the meantime, we hope to get it right as much as we can. We will also see how riding at home boosts Colin and let's hope that both of us could be up there to fight for the podium.
So…'near' the podium or actually on it?
I wish [laughs]! We are going well in terms of pace, as we demonstrated in Qatar. We will see what happens. One would not imagine things to be 'as easy' as they were at Losail, but on Saturday we will try and fight for a first or second row starting position and then in the race see whether we can fight for the podium.
The pre-season was dramatic for you, but perhaps even more so for your younger brother Pol who broke a collarbone on the last day of pre-season testing
Yes, it is a difficult category and I think Pol thought it would be a little more manageable in some ways; even if you can establish a good rhythm and you are going quickly, the differences with other riders are still small and even the most minor of errors can make a big difference by the end of a race. We all know Pol is very talented; on the single lap he is extremely competitive and he demonstrated that in the Qatar test. The race is different, though; everybody is going much quicker and the level is very high. Also, he began the year on the back foot as he broke his collarbone and had to undergo surgery. He paid for that fall and you could see that he lost some pace during the first Grand Prix. I think he needs a bit more time to fully recover, but he has already demonstrated that he has very much adapted to the category.
With nearly a whole week of enforced rest, you have surely had time to review the Qatar Grand Prix!
Yes, I have watched back the whole race – and what a treat for the viewers! The beginning seemed like a Moto2™ race! Then at the end, what a great fight between Marc and Valentino. It was too bad that Marc pushed just that bit too much on the last lap, which prevented Valentino from challenging him. Anyway, the Yamaha certainly looks very close to the Honda. I think this is going to be a very open title battle and really fun for the people watching.
Latest news
Friday, 19 September 2014

Thursday, 18 September 2014

Wednesday, 17 September 2014

Tuesday, 16 September 2014

Monday, 15 September 2014

Sunday, 14 September 2014

Saturday, 13 September 2014

Wednesday, 10 September 2014

Thursday, 4 September 2014
Read more »
Friday, 19 September 2014

Wednesday, 17 September 2014

Tuesday, 16 September 2014

Monday, 15 September 2014

Sunday, 14 September 2014

Friday, 12 September 2014

Wednesday, 10 September 2014

Tuesday, 9 September 2014
Read more »