Aspar looks towards promising 2014
Moto2™ is powered by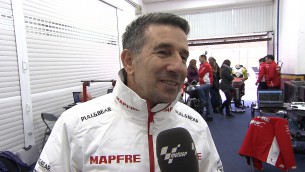 Tuesday
, 26 November 2013
Jorge Martinez's Aspar squad enjoyed a strong year in 2013, with Jonas Folger picking up podium finishes in Moto3™ as well as Moto2™ race wins for Nico Terol and Jordi Torres, not to mention Aleix Espargaro's MotoGP™ success. Looking towards the new campaign, more of the same is hoped for.
This season, in the premier class Espargaro was once again the rider to beat amid the CRT ranks, comfortably leading the way by the end of the campaign. In the intermediate tier, there were four wins between Terol and Torres, whereas Folger finished on the rostrum on no less than four occasions in Moto3™. Despite this, 'Aspar' knows even more will be possible in 2014.
"In Moto2™, the year was not as complete as we would have liked," he begins. "Having said that, we won four races, had podiums and the end of the season was spectacular (a Moto2™ one-two finish in the team's home race of Valencia). Retaining both Nico and Jordi, next year can hopefully start with a continuation of that and we will be able to aim for the world title."
Folger has now departed Aspar to join Argiñano & Ginés Racing as he steps up to Moto2™, with the Aspar Moto3™ line-up consisting of Brazil's Eric Granado alongside Spaniard Juanfran Guevara.
"Two young riders who continue to develop," 'Aspar' continues. "Obviously, the goal is not to become World Champions. It is to be amongst the top ten or the top five…that is the target and I believe they have the potential to do it. As for Jonas (Folger), he is a rider with great natural talent; he ended 2012 with us and did the whole of 2013. I'm sure he will do very well in Moto2™."
However, as ever, the 'Aspar' talent-scouting stretches beyond the realms of the World Championship. From next season onwards, Martinez will be working with Luca Marini, half brother of multiple World Champion Valentino Rossi, as the Italian makes the move from Italy's CIV championship to the CEV Repsol series in Spain.
"We have taken an important step with the Moto3 category of the CEV," the team owner continues. "In running Luca Marini, we believe it is important to think about the future and young riders in particular. Of course, we also have all of the synergies with Valentino Rossi who himself is going to be supporting up and coming Italian riders in the Moto3™ class of the World Championship."
Aspar's own time as a World Championship rider began in the now defunct 50cc class in 1982. He would go on celebrate 37 career victories and four consecutive titles between 1986 and 1988 (including winning both the 80cc and 125cc crowns in 1988). He stopped racing at the end of 1997, having clinched a final three podiums finishes.
Photos:
Latest news
Thursday, 19 February 2015

Wednesday, 18 February 2015

Tuesday, 17 February 2015

Thursday, 12 February 2015

Wednesday, 11 February 2015

Tuesday, 10 February 2015

Thursday, 22 January 2015

Thursday, 4 December 2014

Thursday, 27 November 2014
Read more »