Marquez takes victory in crash strewn Assen contest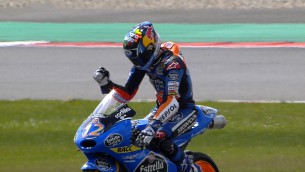 Alex Marquez (Estrella Galicia 0,0) took a second successive Moto3™ victory at Assen on Saturday, with Alex Rins (Estrella Galicia 0,0) and Miguel Oliveira (Mahindra Racing) joining him on the podium after crashes for championship frontrunners Jack Miller (Red Bull KTM Ajo) and Romano Fenati (SKY Racing Team VR46).
Marquez built on his Barcelona win with another dominant performance to take victory by three seconds, leading for the majority of the race from second on the grid. His teammate Rins briefly challenged him for the lead but the younger Marquez brother eventually had too much for his compatriot over the course of the 22 laps.
Rins overtook Oliveira for second in the final stages, whilst 12 seconds further back Alexis Masbou (Ongetta-Rivacold) won a tremendous battle for fourth between a group of seven riders.
Those battling for fourth with Masbou were Niccolo Antonelli (Junior Team GO&FUN), Efren Vazquez (SAXOPRINT RTG), Isaac Viñales (Calvo Team), Danny Kent (Red Bull Husqvarna Ajo), Brad Binder (Ambrogio Racing) and John McPhee (SAXOPRINT RTG) – who completed the top ten.
Miller crashed in the early stages whilst Fenati battled to 18th after coming back from an early mistake and then crashing to drop back again.
Neither of the championship front runners were hurt and they remain first and second in the standings with Miller still seven points in front, though Marquez has now pulled level second with Fenati, whilst Rins sits fourth – three points adrift of his teammate.
Enea Bastianini (Junior Team Go&FUN Moto3), Niklas Ajo (Avant Tecno Husqvarna Ajo) and Karel Hanika (Red Bull KTM Ajo) all crashed out without major consequence, though Ajo was taken to the medical centre for checks on an ankle knock.
A nasty collision between Luca Grünwald (Kiefer Racing), Juanfran Guevara (Mapfre Aspar Team Moto3) and Alessandro Tonucci (CIP) at the chicane on the final lap saw them all crash out, but fortunately all three were uninjured.
Full Iveco Daily TT Assen Moto3 race results.
Latest news
Thursday, 30 October 2014

Wednesday, 29 October 2014

Saturday, 25 October 2014

Wednesday, 22 October 2014
Read more »
Wednesday, 29 October 2014

Saturday, 25 October 2014

Thursday, 23 October 2014

Wednesday, 22 October 2014

Saturday, 18 October 2014

Thursday, 16 October 2014
Read more »