Bridgestone all-set for altered Indianapolis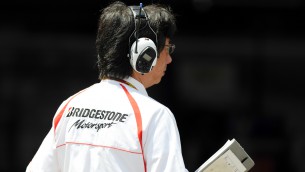 The world-famous Indianapolis Motor Speedway will kick-start the second half of the MotoGP™ season this weekend, but not as it was previously known as several changes have been made to the circuit. This throws an added challenge into consideration for premier class tyre supplier Bridgestone.
2014 marks the seventh visit to Indianapolis, which has been on the calendar since 2008. On this occasion, changes have been made to various sections of the track in order to both improve safety and generate more overtaking opportunities, with the sections of Turns 2-4, 7-9 and 15-16 having all been widened. Furthermore, there are now just two different types of track surface as opposed to four in previous years: those of the start/finish straight and a new asphalt on the infield section.
The 'stop-and-go' nature of the track - with slow corners split up by short straights - places much emphasis on good rear traction and braking stability, whereas the sequence of left-hand corners towards the end of the lap puts much strain into the left-hand shoulder of the rear tyre; for this reason, it is the left shoulder which sports the harder compound of the asymmetric rear slicks. For Indianapolis, the Bridgestone rear slicks available are Hard and Medium for Factory Option runners while the Open specification bikes will be able to choose from Medium and Soft.
"A recent re-surfacing at Indianapolis Motor Speedway means that there's only a single type of tarmac on the infield section, whereas in previous years there were a few different types of tarmac which caused variable grip levels for riders," explains Shinji Aoki, the Manager of Bridgestone's Motorcycle Tyre Development Department.
"The circuit has also had some corners modified for this year, but overall it still retains its usual character with many low-speed corners. The layout puts greater stress on the left shoulder of the tyres and the run from Turns 12 to 14 generates very high temperatures on the left shoulder of the rear tyre."
Bridgestone will start collecting data on the updated Indianapolis layout as opening MotoGP™ free practice begins at 9:55am local time (GMT -4) on Friday.
Latest news
Monday, 22 September 2014

Friday, 19 September 2014

Thursday, 18 September 2014

Wednesday, 17 September 2014

Tuesday, 16 September 2014

Monday, 15 September 2014

Sunday, 14 September 2014

Saturday, 13 September 2014

Wednesday, 10 September 2014
Read more »
Monday, 22 September 2014

Friday, 19 September 2014

Wednesday, 17 September 2014

Tuesday, 16 September 2014

Monday, 15 September 2014

Sunday, 14 September 2014

Friday, 12 September 2014

Wednesday, 10 September 2014

Tuesday, 9 September 2014
Read more »