Brno closing in on fresh MotoGP™ race deal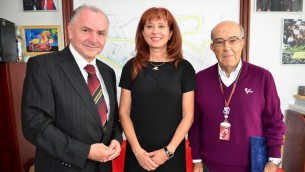 The legendary Brno Circuit is set to remain on the MotoGP™ calendar for the coming years following negotiations between Dorna Sports, commercial rights holder of the FIM MotoGP World Championship, and officials at the venue this weekend. The Czech event was first part of the series in 1965, while racing on the modern-day circuit took place from 1987.
As MotoGP gathered at Brno for this year's bwin Grand Prix České republiky, officials looked to secure the immediate future of the event. Dorna CEO Carmelo Ezpeleta met with Mr.Stanislav Juranek, Vice-governor of the South Moravian Region and Mrs. Ivana Ulmanova, CEO Brno Circuit, concluding that funding will soon be in place for at least the 2015 race.
Carmelo Ezpeleta, CEO of Dorna Sports, declared: "I appreciate the decision of The Council of South Moravian Region and personal initiative of the South Moravian governor Mr. Michal Hasek to guarantee funding of the Czech Grand Prix in 2015. I must express my thanks to the vice-governor of the South Moravian Region, Mr. Stanislav Juranek, who informed me about the decision made by the Council. We also discussed the principle of securing the guarantee. The positive information I have received this weekend comes in complete contrast to the information we had received at Sachsenring and therefore completely changes the situation. I consider it to be very positive; it will now be necessary to discuss further steps with the Brno Circuit and with other partners. I cannot predict our final decision at this very moment, but I can assure all MotoGP fans and visitors to the Czech Grand Prix that our primary interest is to keep the MotoGP race in Brno as one of the traditional and highly appreciated events on the World Championship calendar. Further negotiations with regards to firm details of the co-operation with the South Moravian region will be held after the South Moravian assembly, which must approve the decision of the Council. We expect this to happen in the second half of September."
Mrs. Ivana Ulmanova, CEO, Brno Circuit commented: "I highly appreciate Mr. Ezpeleta's willingness to meet representatives of the South Moravian Region and accept their guarantee of the MotoGP race at the Brno Circuit. The previous statement we made to Dorna was influenced by the current uncertainty about funding a MotoGP race for 2015. I must express my thanks to Carmelo Ezpeleta for waiting on a final decision about the Czech GP until almost the last possible day. This gives us enough time to negotiate and finally to find a solution. We now have renewed positivity that we can guarantee next year's MotoGP race. I hope that the effort we spend in keeping live the tradition of the Czech Grand Prix event will be the best evidence for Dorna Sports representatives that we are prepared to stay in the World Championship as a one of the best organised and most popular MotoGP events."
Latest news
Thursday, 22 January 2015

Thursday, 4 December 2014

Thursday, 27 November 2014

Tuesday, 25 November 2014

Wednesday, 19 November 2014

Tuesday, 18 November 2014
Read more »