Curtain to close on CEV Repsol 2013 season at the Jerez Circuit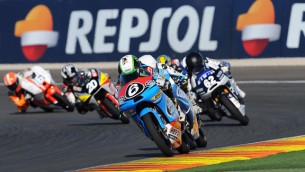 Thursday
, 21 November 2013
The CEV Repsol racing teams are already on the road, heading towards the last leg of this exciting event. The stage for the closing races of the season is ―inevitably― the legendary and much-loved Jerez Circuit. The cast of characters includes a long list of high-profile, internationally-known riders, who are sure to bring the crowds to their feet this weekend.
In Moto3™, up to seven riders could get their name in the annals of motorcycling. The mere 20 points that separate the seventh-placed Bryan Schouten (NED-FTR) from leader María Herrera (SPA-KTM) in the overall rankings mean that, mathematically, Alexander Medina (SPA-KTM), Marcos Ramírez (SPA-KTM), Adrián Martín (SPA-Kalex-KTM), Fabio Quartararo (FRA-FTR), Jorge Navarro (SPA-MIR Racing) all have a shot at the title, along with Herrera and Schouten.

The Moto2™ general standing is not so close. Leader Román Ramos (SPA-Ariane), the only rider who has been on the podium in every single race this season, still needs at least six points to win the championship title. Alex Mariñelarena, who showed in Valencia that he is recovering from his injury, is close behind and is the only rider who has a chance of stealing the title from Ramos.

In Stock Extreme two races are planned for this weekend. The leader, Xavi Forés, accustomed to taking the honours race after race, must find his best form again and try to forget last weekend when he failed to get the expected results. Closest rivals Carmelo Morales (SPA-Kawasaki) and Iván Silva (SPA-BMW Motorrad) have also had plenty of experience on the podium this season.
Latest news
Thursday, 30 October 2014

Wednesday, 29 October 2014

Saturday, 25 October 2014

Wednesday, 22 October 2014
Read more »
Wednesday, 29 October 2014

Saturday, 25 October 2014

Thursday, 23 October 2014

Wednesday, 22 October 2014

Saturday, 18 October 2014
Read more »