Pramac's Campinoti: 'If Iannone went, Bradl could be an option'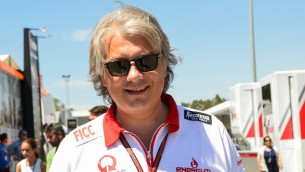 Speaking exclusively with motogp.com, Pramac Racing Director Paolo Campinoti looks into possible movement on the MotoGP™ rider market for 2015. He all but confirms Yonny Hernandez, discusses Andrea Iannone's possibilities of switching to Ducati Team and does not hide his interest in Stefan Bradl…
Pramac Racing has enjoyed a strong start to the season, thanks to performances from both Iannone and Hernandez. However, it has been the Italian who has shone on several notable occasions, not least in qualifying – such as at his home Grand Prix in Italy, when he qualified on the front row of the Mugello grid.
"It's very positive, from every point of view," Campinoti comments. "We have grown in terms of results and both of our riders have demonstrated signs of growth and maturity. But we are not going to stop here. We are now working on having an even better second half to the year than the first."
Delighted with the campaign to date, Campinoti also stresses the importance of the future and continues to keep close tabs on how he will structure the team in 2015, starting with Colombian Yonny Hernandez who is in his first full season with Pramac:
"We have an option to renew with him and we have every intention of doing so, as he has been one of the stars of the season so far. We are very happy with what he is doing and what he continues to do, race after race."
Other rider Andrea Iannone, on the other hand, has made his intentions clear of wanting to ride a factory-specification Ducati Team bike next season, having already tested for the red outfit at Mugello.
"That all depends on whether Cal Crutchlow renews with Ducati Team," Campinoti continues. "If so, the situation will remain as it is. Otherwise, Andrea would automatically enter Ducati Team, which would take up that option."
Furthermore, Campinoti also confirms his intentions of wishing to continue the Pramac MotoGP™ adventure with Ducati, as opposed to another manufacturer, as he adds, "We still haven't confirmed anything for sure, but I sincerely hope we continue with them."
Finally, the Italian went on to openly express his interest in the 2011 Moto2™ World Champion, should it turn out to be the case that Iannone does move team for next season.
"It all depends on how things evolve, but it could be the case that several good riders are on the market," Campinoti begins to sum up. "One of them could be Stefan Bradl…he is yet to renew his contract (with LCR Honda MotoGP)."
Latest news
Saturday, 13 December 2014

Wednesday, 10 December 2014
Read more »
Thursday, 4 December 2014

Thursday, 27 November 2014

Tuesday, 25 November 2014

Wednesday, 19 November 2014

Tuesday, 18 November 2014
Read more »