Dall'Igna: 'Lots of steps in the right direction'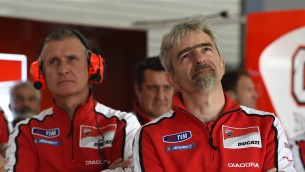 The new General Manager of Ducati Corse this year, Luigi Dall'Igna has already been able to enjoy a podium finish as well as a front row start. Following the French Grand Prix at Le Mans, the Italian spoke with motogp.com about the latest developments at Borgo Panigale, the changes with the bike and his relationship with the riders.
It has not been long since you moved from Aprilia to Ducati. With this in mind, how have you settled into your new surroundings?
I am extremely happy with Ducati. I've found a group of people who are extremely valuable and the environment is very positive, even though we are facing some difficulties at the moment. We are a tight-knit group, working together in an incredible way in order to try and reduce the performance gap between ourselves and our competitors, Honda and Yamaha. It's not easy, but we are trying so hard.
Are any changes scheduled to come for Mugello? If so, what?
We will get to Mugello with something special from the point of view of the engine and also from the chassis side; that is something Dovizioso and Iannone tried and liked two weeks ago, although Crutchlow still has to decide whether he will run it for the race. At Mugello, therefore, there will be a minor change; it won't be a major leap forward, but it is certainly a step in the right direction. In terms of chassis, what we had already tried with Dovizioso we then used in the race at Le Mans; a frame with different measurements which allowed us to try some things we couldn't do last year.
How much will 2014 have a bearing on what happens in 2015?
The bike of 2015 will definitely depend on what has happened this season; everything we do this season will be important when it comes to defining next year's machine.
How much of what you have achieved so far this year has come from the Open benefits you are able to run, such as a softer rear tyre and more fuel capacity?
We have been able to try more things than others, such as working on the engines throughout the season which is why we decided to do what we did. With the softer compound rear tyre, in some cases it has been an advantage in qualifying, but not in all of the races. With the greater amount of fuel, we are not fully taking advantage of it but only partially.
Andrea Dovizioso has scored more points than any other Ducati rider so far this year. However, his name has been linked with other manufacturers for next season. What is your view on this situation?
Right from the beginning of the year, both Dovizioso and Iannone have been key in terms of the contribution they have made to the developments of the project. I would definitely like to have them both with us again next year.
And how do you rate Cal Crutchlow? Is he now fully recovered from his crash in Texas? Is there anything still missing?
Cal was particularly unfortunate during the first part of this season, especially in the races because he has suffered a number of technical problems – and obviously you can't be finishing races like that. He is a fast rider and a real racer: he always shows his best side in the races themselves and comes across much stronger than many others. We are yet to see his full potential on a Ducati. The race at Le Mans was the first in which he was not struck by any technical problems, but clearly at the moment he is still yet to find his best form from a psychological and physical point of view.
On several occasions – particularly in practice – Andrea Iannone has been the leading Ducati rider. Could we be seeing him in the Factory team next year?
Iannone has taken a massive step forward, both in terms of performance and maturity. When you develop so much, though, you can sometimes make mistakes and unfortunately he has made some in the races. However, I still see him as one of the most important Italian talents of the future.
Latest news
Thursday, 20 November 2014

Wednesday, 19 November 2014

Tuesday, 18 November 2014

Thursday, 13 November 2014

Wednesday, 12 November 2014

Tuesday, 11 November 2014

Saturday, 8 November 2014

Thursday, 6 November 2014

Wednesday, 5 November 2014
Read more »
Tuesday, 25 November 2014

Wednesday, 19 November 2014

Tuesday, 18 November 2014

Thursday, 13 November 2014

Wednesday, 12 November 2014

Tuesday, 11 November 2014
Read more »