Jorge Lorenzo visits Colombia and Mexico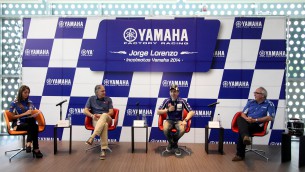 Most of the paddock will not be heading to South America until Round 3, when the World Championship returns to Argentina. However, that hasn't stopped Jorge Lorenzo from undergoing a mammoth tour to take in sights across Colombia and also Mexico ahead of this weekend's Red Bull Grand Prix of the Americas.
The Movistar Yamaha MotoGP man has now come to the end of a three-day trip. It began in Colombia on Friday, where the Mallorcan visited the new Incolmotos headquarters in Medellin; he met some 2,000 employees at what is the local Yamaha distributor, with children assembling on stage to perform with Yamaha musical instruments prior to press conference. During the day, Lorenzo also undertook an autograph session in a local shopping centre.
"I was surprised and really pleased by the people in Colombia," Lorenzo says. "It is a really important market for Yamaha and the people are crazy for MotoGP™! I never thought there would be such a huge following in a country where we don't race."
Day 2 saw Lorenzo head to capital city Bogota, where he took part in the Yamaha Racing Day at the new Tocancipa racing circuit; the event featured over 10,000 Yamaha fans and Lorenzo rode the new MT-07. Later on, there was a huge 'meet-and-greet' involving over 90 Colombian motorcycle dealers and clubs, all enjoying the first official MotoGP™ event to be staged in the country.
"Our day at the Tocancipa circuit was an amazing experience," he continues. "It was fantastic to see the crowd so passionate - shouting and screaming. A big 'thank you' to all of the Colombian fans who came to see me and to Yamaha Colombia for arranging everything. I hope MotoGP™ goes to Colombia soon."
The 2010 and 2012 title winner then headed straight to Mexico for Day 3, with a multimedia press conference taking place in Mexico City and with Lorenzo being joined by Yoshihiko Takahashi, President of Yamaha Motor Mexico to unveil the Ray Z scooter as a new model to the national market. The tour then moved on to Liverpool Insurgentes shopping mall, with an autograph signing session for 2,000 fans.
"Just like Colombia, in Mexico we were treated like stars, so I was very happy and proud to be there," Lorenzo begins to sum up. "We only had one day but the people were very passionate and excited and also very charming and friendly. It is very important to keep promoting our sport in these countries where they don't have races like those in Europe. This has been an amazing experience."
Lorenzo now takes a few days' rest before regrouping for the Red Bull Grand Prix of the Americas. He heads into that second race with a 25-point deficit to Repsol Honda Team's Marc Marquez, following a crash from the lead in the Qatar season-opener.
Latest news
Thursday, 19 February 2015

Wednesday, 18 February 2015

Tuesday, 17 February 2015

Thursday, 12 February 2015

Wednesday, 11 February 2015

Tuesday, 10 February 2015

Thursday, 22 January 2015
Read more »