Specific 2015 targets for LCR Honda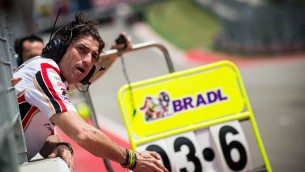 Lucio Cecchinello's team moves into a new era next season. Stefan Bradl will be leaving, replaced by Cal Crutchlow, and the squad will run two bikes in the premier class for the first time. Sporting Director Oscar Haro shares the latest on this, as well as the reports linking Moto3™ rider Jack Miller to the team.
"The project will involve two bikes," Haro explained to Spanish MotoGP™ television channel Movistar TV. "For the second bike, we are in contact with two riders: Jonathan Rea and Eugene Laverty: a rider who has already ridden with us in the 250 class. Having a structure of two riders is something we have been perusing since 2006; we have worked very hard to get to this point and we are very happy about it. We hope to name the second rider when we get to the San Marino Grand Prix."
It is no secret in the paddock that Jack Miller is linked to the Monaco-based LCR outfit, with word being that he could leap straight up to MotoGP from Moto3.
"HRC has been negotiating with Miller for some time, but the reality is that nothing is confirmed and that there is more gossip than fact," Haro continued. "I would like to have a project going with a young rider. The team has done things like that in the past with Stefan (Bradl) and Casey (Stoner), who was with us for six years. That (Miller) project is something I would love, but it is down to HRC entirely – it is not our project."
Haro went on to reveal that LCR's two bikes of 2015 are likely to run with different colour schemes due to commercial deals.
"We sealed a major sponsor from England (CWM, a leader in the financial sector) which will be supporting us in the project with Cal Crutchlow. We would then surely be running a structure of two liveries, one for each bike, as this new sponsor would like to focus on Crutchlow whereas the Open bike would be different."
On Monday, LCR Honda MotoGP was in action at Brno as Stefan Bradl completed the post-race test, with the emphasis placed on dialing out rear wheel spinning.
Latest news
Saturday, 31 January 2015

Thursday, 29 January 2015

Thursday, 22 January 2015

Wednesday, 21 January 2015
Read more »
Thursday, 22 January 2015

Thursday, 4 December 2014

Thursday, 27 November 2014

Tuesday, 25 November 2014

Wednesday, 19 November 2014

Tuesday, 18 November 2014
Read more »