Post-Mugello Q&A with Freddie Spencer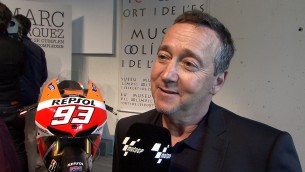 Forever keeping a close eye on the world of MotoGP™, Freddie Spencer was delighted to witness the battle between Marc Marquez and Jorge Lorenzo at Mugello. The premier class World Champion of 1983 and 1985 discusses the 2014 season so far and suggests who might be beating Marquez over coming years…
Spencer made history in his day, becoming the youngest ever 500 class title winner in 1983 with the Honda Racing Corporation (HRC). Two seasons later, he historically did the double by claiming both the 250 and 500 crowns in the same year. Nowadays, he loves to watch the latest stars while working hard to train up budding youngsters.
Marc had an amazing journey to the top class, an incredible season last year and now a perfect start to 2014. How have you seen him over these first six rounds?
Well, I think the change in Marc this year is interesting, which goes along with where he is at and how he has grown. Last year he had crashes in many practice sessions but just the one in an actual race, at Mugello. This year, I can just see a change of growth in him and in his comfort level and what he is trying to accomplish. He is going about it the right way: one race at a time and utilising the strengths of the bike and how they work together. He is great at working around problems and understanding both the strengths and weaknesses of both his bike and his competitors.
It is that awareness that he has really grown into and that has allowed him to take six wins out of six. He does a great job with that and has the chance and ability to win all of them but, as we know in racing, it takes more than that for everything to fall into place. Hopefully there will be no bike issues that could affect that.
Other guys are trying to stop Marquez from winning: guys like Jorge Lorenzo, Dani Pedrosa and Valentino Rossi, who himself has been far more consistent and on the podium more regularly than he was at the start of last year…
What is great about what Valentino has done over this last year or so is the adjustment and the changing of his riding. We all know Valentino's ability, we all know his passion for his place and what he does in Grand Prix racing and the fun he has. He has gone out there and adjusted to it; there is always a risk in that, but he faced that and I respect him for that. I am very proud that he did that and it has shown in his performance. He is right there, pushing Marc; if Marc didn't win the races, Valentino would have, as he was finishing second.
Jorge, unfortunately, has struggled but we saw at the last round in Italy that he came back strong – and that is how it should be. Marc knows that too. That is how you expect the races to go, for them to be tough and working around the issues. With Dani and his arm problems, we haven't seen the best out of him so far this year and we know he can be stronger. It is up to those three guys to push Marc to an even higher level; he brings them along and that is what makes the championship exciting.
You became the youngest ever premier class World Champion in 1983. Marc then took that record away from you. Are there any young riders you see emerging through the classes who you think could challenge Marc over the next four, five or perhaps even ten years?
There are always young riders. The young Australian kid, Jack Miller, in Moto3 – he could be tough. There is obviously also Marc's brother, Alex…how interesting would that be?! Two brothers battling.
There is a uniqueness about Marc that doesn't come along that often and it raises the level. Certainly, there will be guys that come along after Marc, but he was the first in this generation to do that. It inspires others, to know that records can be broken, and it motivates someone. That is the great thing about what we do and what we have the opportunity to do. Marc does great in inspiring people to raise their level of performance. There will be somebody that comes along; I don't know who yet [laughs], but I do think that riders in the not too distant future will challenge him and raise the bar. That is what is great about what we do – anything is possible!
And how is Freddie Spencer getting on with his latest venture?
I continue to work with the riding school at Le Castellet in France. It is with the track day group 4G and we are doing some really great things. I love helping people. After I retired from racing, I started a school in Las Vegas and that was really the first step in doing that.
The other thing I am doing is classic events. That is one of the great things that is growing; I think it is really important to show the history of motorcycle racing. We had an event at Dijon last weekend and they had around thirty or forty thousand people there…record crowds. They get to come and see the bikes from many different decades as well as a World Champion. It is a great to be a part of that and I think it is really important to share that.
I also enjoy going to the Grands Prix and that aspect of it. I am a big believer in what we share in motorcycling: it has given me so much and I like giving back to it.