Bendsneyder wins home Rookies Cup race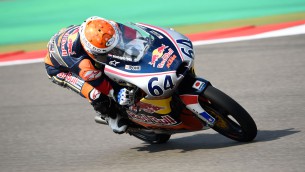 Bo Bendsneyder and Jorge Martín gave the huge Dutch TT crowd exactly what they had stayed for with a thrilling battle that ultimately produced a Dutch winner as 15-year-old Bendsneyder flashed across the line in front on Saturday afternoon. 16-year-old Spaniard Martín took a clear second and extended his points lead after five of the 14 Red Bull MotoGP Rookies Cup races this season.
The contest for third was even more intense and only sorted out at the final corner as Stefano Manzi claimed the honours from Olly Simpson, Soushi Mihara, Bradley Ray and Manuel Pagliani.
The orange fans of course wanted to hear what Bendsneyder thought of his first Rookies Cup win in his Dutch TT debut. "Well I was in pole position so I thought I should win it," he said with a huge grin. "But it certainly wasn't easy, a great battle with Jorge all the way and I was sure he was going to come past on the last lap, even at the last corner, I know he is a great competitor – but he didn't."
Martín just wasn't close enough to make a last lap play. "With two laps to go we caught a back marker and I just didn't know where he would go on the race track, I had to hesitate and that was it, I lost time and wasn't close enough to try anything on the last lap. Bad for the race but it has certainly been a good weekend for the championship, two second places."
The points leader was a lot happier than he had been at the end of qualifying. "Yes we found the answer to our front suspension problems and the bike was much better, not perfect but I could certainly race with it. My bigger problem in the race was my tall gearing, I was losing out on corner exit."
Manzi completed the podium but wasn't thrilled about it. The 15-year-old Italian is tired perhaps of still waiting for his first win. "The start was okay I was leading but then when the first two broke away we couldn't go with them, we were slowing each other up so it just became a battle for third. That is okay but still frustrating, Sachsenring will be better."
Simpson, the 16-year-old Australian is still waiting for his first podium, this time denied it by just 0.038 seconds. "Getting closer," he agreed with his ever-present smile. "It was hard work, a couple of times I had to pull us back up to the leading guys. I was going for the podium on the last lap but I juts out-braked myself slightly going into the last corner and Manzi had the better drive out and across the line."
British 17-year-old Ray was not thrilled with his sixth behind Friday's winner Mihara after 3rd in Race 1. "Not bad, not as good as I wanted though," he explained with a wry smile. "Entry and mid corner I was gaining on them but coming out and top speed I was losing out so it was hard. I had the taller gearing, that wasn't helping out of the corners but I was also hitting the limiter on the top end so I couldn't have gone shorter."
Mihara explained exactly why he had not managed a second win. "Bo and Jorge got the jump on us. We should have gone with them but we were messing each other up. I tried to signal the others to tuck in behind because I thought I had the pace to catch up but of course they didn't. We just carried on battling all the way," concluded the 14-year-old Japanese who still holds second in the title chase on 78 points, while Martín has 101.
The championship continues at the Sachsenring, Germany on July 12-13.
Latest news
Friday, 19 September 2014

Thursday, 18 September 2014

Wednesday, 17 September 2014

Tuesday, 16 September 2014

Monday, 15 September 2014

Sunday, 14 September 2014

Saturday, 13 September 2014

Wednesday, 10 September 2014

Thursday, 4 September 2014
Read more »
Friday, 19 September 2014

Wednesday, 17 September 2014

Tuesday, 16 September 2014

Monday, 15 September 2014

Sunday, 14 September 2014

Friday, 12 September 2014

Wednesday, 10 September 2014

Tuesday, 9 September 2014
Read more »