Spencer on Marquez, Rossi, Open and the future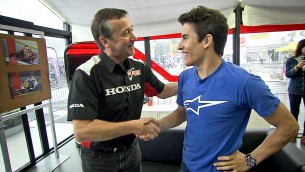 Millions witnessed the Marc Marquez-Valentino Rossi battle of the Qatar Grand Prix, as well as the introduction of Open bikes to the MotoGP™ field. Watching closely from home was two-time premier class World Champion Freddie Spencer, while planning a golden opportunity for some riding talents of the future…
Proudly in the Hall of Fame as a MotoGP™ Legend, 'Fast Freddie' became the youngest ever premier class World Champion when he won the crown for Honda in 1983 – a 'youngest ever' record which stood until the end of 2013, when Honda counterpart Marc Marquez took it away from him. However, the American is arguably best remembered for his historic double of 1985, when he wrapped up the 250 title as well as 500 honours in the same season. Nowadays, he is working on establishing a brand-new riding school in the south of France.
First of all, tell us about the new Freddie Spencer riding school at Paul Ricard…
Absolutely. It is going to be a riding school, but more than just that. It is more a motorcycling experience and a kind of evolution of the previous riding school I ran in Las Vegas. This will be a little more personal. It should suit me very well for where I am at this part of my life and the location is incredible: Paul Ricard. The facilities are superb and there are a lot of good people involved.
We ran a small programme two weeks ago as part of a track day, but we are now structuring it more into a real riding centre. It will provide everything for upcoming riders and will be split into small, dedicated classes. The experience you get will be very unique. Anybody can come and the classes will be with me personally. What I like about it is that I will be able to look at a rider and see exactly where they are struggling and be able to talk about that. It could grow into something very unique.
Your riding school pupils may want to emulate Marc Marquez and Valentino Rossi, following their fantastic fight in the Qatar Grand Prix…
Yes! I was watching from Marseille in France, which is where I am based at the moment. It was a great battle. Valentino did say that qualifying was not going to be indicative of the race and he had gone well in Qatar last year too. I wasn't surprised he was up there, but what was particularly exciting was how many others were also fighting for the lead: Stefan Bradl, Alvaro Bautista and Bradley Smith, for example.
Jorge (Lorenzo) dropped out on the first lap, otherwise I think he would have been really tough for everyone to beat. But of course he crashed and then the battle was between Marc and Valentino – and very exciting. But we'll have to see what happens once we get to Austin. In some respects, Qatar is unique, but this year's race definitely breathed some great excitement.
Could you say it was an ominous performance from Marc Marquez?
Well, I do think Qatar was very important from the standpoint of: I don't think he was really riding at the full 100% of his efforts. He didn't need to. He just did exactly what was necessary at the time and that was the mature thing to do. It doesn't matter whether you win a race by 20 seconds or two thousandths of a second. He took no risks in practice or qualifying.
You could say that approach of his was quite different to last year: no incidents, not fastest until it mattered in qualifying and then winning the race. A very controlled approach. He only did what he needed to do, but both he and Valentino did a great job.
Rossi himself has pinpointed the first six races of 2014 as critical in deciding whether or not he will continue his riding career into next year…
I know that the win at Assen last year kept him motivated; it meant everything to him and renewed his confidence about winning races again. If he says his future depends on the first six races of this year, then I believe him. Having changed his crew chief, there is pressure to perform – and even more than usual.
Jorge Lorenzo has been aggravated by a lack of grip. Can you recall any tyre-related frustrations in your own career?
If you go back over the last few years, you will see that at one point (in 2012) the tyres were changed and it was Honda who struggled at that point. At the moment, Lorenzo and Yamaha are having more of a hard time.
I remember first testing radials and I just could not get it to work for me. It's hard when something like this happens. For Jorge, it could be just the slight loss of feel when you are right on the very edge – and when you can't feel every little detail it is hard to go beyond the edge. You need to be able to push, to be able to ride not just on the limit but beyond it, if you have to.
Jorge is such a 'feel' and controlled rider. His style is about precision. I understand that because I was a bit like that and also a bit like Marc – I was a bit of both of their styles. But being able to find the limit and really push it is so important, so it is very difficult to accept the situation if you can't do so. If the tyres change, you have to try and modify your suspension settings around it. It's all about finding a compromise.
What do you make of Open bikes and Ducati being able to enjoy the benefits - such as the ability to develop engines in-season, plus the softer tyre and so on?
The Open bikes have brought the field closer together! It is more controlled, but it certainly makes for great racing and brings the field closer together – but we'll see for how long. Factories can't make any engine changes like the Opens can, but that is probably a good thing to make it more interesting.
It will be particularly interesting to see more changes, when they start taking away some of the advantages (Ducati will lose some Open benefits depending on its success). I understand why Ducati would do it because, at the end of the day, they want and need to be more competitive and this is a great opportunity to do it.
Austin, Texas is coming up next. Last year, Marquez won there and took away your mantle as the youngest ever premier class Grand Prix winner. Should we expect more of the same on our second visit to Circuit of the Americas?
Marc looked very comfortable there last year and the Honda works well on that track; it's about high speed and good acceleration. I would have to think the pressure is on Jorge and Yamaha, but it is a long season and this will only be the second race; but you would think Jorge will be feeling a little extra pressure, already carrying a gap of 25 points to Marquez following the crash in Qatar.
What is going to be especially interesting for me is some of the other guys. We will have to see if Aleix Espargaro can continue to impress and also keep an eye out for Smith, Bradl and Bautista. It's unpredictable! The new rules have taken a lot of flak, but you know what? It's a race and these rules certainly made the first one interesting. That is a good thing…it keeps everybody guessing!