The FIM CEV Repsol arrives at the Barcelona-Catalunya Circuit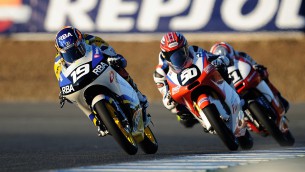 The fourth event of the championship will take place at the Barcelona-Catalunya Circuit. This will be the mid-point of the season for the Moto3™, Moto2™-Superstock 600, Superbike and Kawasaki Z Cup riders, who will have the pleasure of riding on the track that just a few days ago hosted the MotoGP™ World Championship.
Fabio Quartararo (FRA-Honda) will defend his 38-point lead at the head of the rankings in Moto3. Teammate María Herrera (SPA-Honda) will be looking for a good performance on a circuit she knows well after her experience as a wild card rider in the Monster Energy GP of Catalunya. Outstanding riders such as Jorge Navarro (SPA-Ioda), Gabriel Rodrigo (SPA-KTM), Hiroki Ono (JPN-TSR) and Andrea Migno (ITA-Kalex) will be ready to defend their positions in the top ten of the overall standings.
An interesting struggle is anticipated in Moto2, where there is no dominant leader. The race at MotorLand Aragón showed that there are many riders all looking to be – and capable of being - number one. Florian Alt (GER-Kalex) is leading the results table followed by Jesko Raffin (SWI-Kalex) thanks to his two recent resounding victories. Level on 36 points, Edgar Pons (SPA-Kalex), Alan Techer (FRA-Tech3) and Sebastián Porto (ARG-Kalex) complete the top five. Leading the Superstock 600 category are Gourin Thibaut (FRA-Yamaha), Ferrán Casas (SPA-Yamaha) and Jorge Arroyo (SPA-Yamaha).
The Superbike category is just as hotly disputed. Kenny Noyes (USA- Kawasaki) has shown his intention to hang on to the top slot on the podium, as confirmed by his double victory at the Aragón circuit. However, Carmelo Morales (SPA-Kawasaki) and Iván Silva (SPA-BMW), five points behind, hope to repeat the good results that have stood them in good stead so far. Robertino Pietri (VEN-Kawasaki) and Santiago Barragán (SPA-Kawasaki) have also shown recently that they are riders to be taken seriously in the category. The top privateer riders are Eeki Kuparinen (FIN-BMW), Fabien Parchard (FRA- Kawasaki) and Raúl García (SPA-BMW).

The Kawasaki Z Cup returns to one of its favourite circuits after a break of two months. Javier Valera (SPA), Joan Colomina (SPA) and José Jimenez (SPA), the top three in the results table, will have their work cut out to hold off the challenge from other riders.
Latest news
Tuesday, 16 September 2014

Monday, 15 September 2014

Sunday, 14 September 2014

Saturday, 13 September 2014

Wednesday, 10 September 2014

Thursday, 4 September 2014

Tuesday, 2 September 2014
Read more »
Tuesday, 16 September 2014

Monday, 15 September 2014

Sunday, 14 September 2014

Friday, 12 September 2014

Wednesday, 10 September 2014

Tuesday, 9 September 2014

Thursday, 4 September 2014

Tuesday, 2 September 2014
Read more »