FIM CEV Repsol: Fast qualifying practice at the Barcelona-Catalunya circuit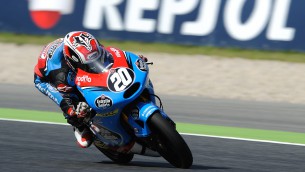 With suffocating heat forecast at the Catalan track it looked like being a tough qualifying day, but in the end the state of the track remained good throughout practice allowing Quartararo, Raffin and Noyes, each in his respective category, to beat the best poles so far in this circuit in the championship. Their ultra-fast times gave each of the riders pole position for tomorrow.
Quartararo (FRA-Honda) was once again the protagonist in Moto3™, lapping in 1:50.135 to take pole position. In second place Gabriel Rodrigo (SPA-KTM) also achieved a great result - the best in his group - giving him serious possibilities of scoring points and being one of the best in the category. Hiroki Ono (JAP-TSR/Honda) was 0.428 of a second behind the Frenchman with a time of 1:50.563, putting him in third place on the grid.
In Moto2™, Jesko Raffin (SWI-Kalex), Florian Alt (GER-Kalex) and Steven Odendaal (RSA-Speedup) make up the first row of the grid and are clear candidates for the podium, though they will have to keep a close eye on Alan Techer (FRA-Tech 3), Xavi Vierge (SPA-Tech 3) and Sebastian Porto (ARG-Kalex) who are ranked immediately behind them and who are also strong contenders, as they have shown in previous races. The best Superstock 600 rider was Ferrán Casas (SPA-Yamaha) followed by Bertin Thibaut (FRA) and Jonathan Rastrero (SPA-Yamaha), who makes his debut in the championship.
Kenny Noyes (USA-Kawasaki) once again put in an excellent performance to take the Superbike pole for the third time running. Carmelo Morales (SPA-Kawasaki) and Iván Silva (SPA-BMW) join him on the front row, and still hold out hopes of catching the Kawasaki Palmeto PL Racing rider. The top Superbike privateer was Raúl García (SPA-BMW), followed by Alejandro Martínez (SPA) and Alejandro Esteban (SPA-Kawasaki).
The Kawasaki Z Cup is back in action. Pere Llorens (SPA) took pole in his first race this season. Joan Sardanyons (SPA) and Francisco Valera (SPA), as they did in the double inaugural races at Jerez, also start off from the front row of the grid.
Latest news
Thursday, 22 January 2015

Wednesday, 21 January 2015

Wednesday, 14 January 2015
Read more »
Thursday, 22 January 2015

Thursday, 4 December 2014

Thursday, 27 November 2014

Tuesday, 25 November 2014

Wednesday, 19 November 2014

Tuesday, 18 November 2014
Read more »