Avintia Blusens
News: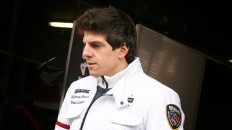 ,
The Avintia Blusens team has announced that it will field Italian rider Claudio Corti as a wildcard in this weekend's Valencian GP on board its Inmotec part-carbon chassis.
read more »
Avintia Blusens Information:
The BQR Racing team have been solid participants in the lower cylinder categories for many seasons, and have helped bring through several young talents. They now switch their expertise and focus to a CRT project in MotoGP and will offer an opportunity to two riders will similar aspirations of forging a premier-class career. Ivan Silva has ridden in MotoGP previously as a replacement rider but now gets his first full-time chance off the back of victory in the Spanish Stock Extreme championship. Yonny Hernandez has meanwhile impressed regularly in Moto2 and puts a Colombian presence on the grid for the first time.
Team Management
Raúl Romero

Team Manager
Iván Silva Crew
Gregorio Lavilla

Chief Mechanic

Bernat Bassa

Mechanic

Miquel Ferrer

Mechanic

Enrique Pintor

Mechanic Assistant

Jesús Francisco Contreras

Mechanic Assistant

Juan Miguel Moya

Data Engineer
Yonny Hernández Crew
Andreu Viudez

Chief Mechanic

Luis Gallego

Mechanic

Jordi Prades

Mechanic

Luis Martínez

Mechanic Assistant

Jesús Francisco Contreras

Mechanic Assistant

Juan Miguel Moya

Data Engineer