Came IodaRacing Project
News: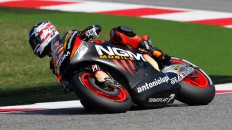 ,
The Misano MotoGP™ race was the first time this season where two Suter machines lined up on the grid, as Came IodaRacing Project's Danilo Petrucci made his Suter debut alongside NGM Mobile Forward Racing's Colin Edwards.
read more »
Thursday, 1, January 1970
On the eve of the San Marino Grand Prix, IodaRacing Project has announced the partnership with Suter Racing for its CRT with a BMW engine, which the team will use until the end of this season and for 2013.
Thursday, 1, January 1970
Came IodaRacing Project's Danilo Petrucci endured a disappointing weekend in Laguna Seca at the Red Bull U.S. Grand Prix, which saw him having to end his race early with severe front-end issues on his bike.
Came IodaRacing Project Information:
Whilst their rider Danilo Petrucci takes his first steps in the World Championship, Ioda can count on the vast experience of their General Manager Giampiero Sacchi who is one of the most recognisable faces in the sport having overseen the young careers of several world champions including Rossi, Biaggi, Capirossi, Simoncelli and Lorenzo. Already a mainstay in the Moto2 class the team now embarks on an ambitious MotoGP project by constructing their very own frame to challenge at the highest level.
Team Management
Giampiero Sacchi

General Manager
Danilo Petrucci Crew
Giovanni Sandi

Chief Mechanic

Paolo Biasio

Track Engineer

Donatello Giovanotti

Telemetry Engineer

Ivano Mancuti

Mechanic

Stefano Riminucci

Mechanic

Tiziano Verniani

Mechanic

David Galacho

Mechanic

Giovanni Romagnoli

Mechanic

Franco Brugnara

Suspensions Technician