Power Electronics Aspar
News: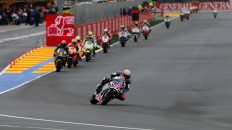 ,
Aleix Espargaró made history yesterday by becoming the first CRT rider to lead a MotoGP race, and he did so for two laps at Valencia. He had to pass through the pits later on in the race to change bikes, in order to use the slicks that were appropriate for the conditions. He then set about overtaking his teammate, and claimed the best CRT rider of 2012 honour.
read more »
Photos:
Power Electronics Aspar Information:
The Aspar Team was initially set up by four-time World Champion Jorge Martínez to support his own racing efforts, however since his retirement in 1997 the team has gone on to even greater things in the lower cylinder categories. Winning races and challenging for the championship has become part of the team's fabric, and they won titles in 125s with Bautista, Talmacsi and Terol. They also enjoyed race wins in 250s with the likes of Randy de Puniet, who rejoins the team this year and is joined by Spaniard Aleix Espargaro, who makes a timely return to MotoGP after an up and down season in Moto2.
Team Management
Jorge Martínez "Aspar"

CEO

Gino Borsoi

Team Manager
Randy de Puniet Crew
Andrea Orlandi

Chief Mechanic

Davide Tagliatesta

Data Engineer

Miguel Ángel Gallego

Mechanic

Juan Manuel Alcañiz

Mechanic

Ignacio Cabeza

Mechanic

Salvador Moraleda

Mechanic Assistant
Aleix Espargaró Crew
Mauro Noccioli

Chief Mechanic

Matthew Casey

Data Engineer

Salvador Franco

Mechanic

Denis Pazzaglini

Mechanic

Jordi Cunill

Mechanic

Óscar Grau

Mechanic Assistant