Repsol Honda Team
News: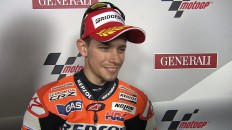 ,
2011 World Champion Casey Stoner completed the final GP of his career and took third place, his tenth podium of the year.
read more »
Photos:
Repsol Honda Team Information:
Honda are defending champions for the first time since 2007 and have trimmed their factory effort to two riders this season. Nonetheless it is the same duo that brought them such success last year, with Casey Stoner proudly displaying the number one plate alongside Dani Pedrosa, who is in his seventh season at Repsol Honda. Both will hope the new RC213V benefits from all the factory's experience of success in the 990cc era of MotoGP, and will undoubtedly begin this season as the favourites after enjoying such a glorious 2011.
Team Management
Shuhei Nakamoto

HRC Executive Vice President

Shinichi Kokubu

Technical Director

Livio Suppo

HRC Communications & Marketing Director
Casey Stoner Crew
Cristian Gabarrini

Chief Engineer

Carlo Luzzi

Electronics Engineer

Giulio Nava

Data Engineer

Bruno Leoni

Chief Mechanic

Roberto Cierici

Mechanic

Andrea Brunetti

Mechanic

Lorenzo Gagni

Mechanic

Filippo Brunetti

Mechanic
Dani Pedrosa Crew
Mike Leitner

Chief Engineer

Alberto Puig

Advisor

José Manuel Allende

Electronics Engineer

Ramón Aurín

Data Engineer

Takeo Yokoyama

Technical Staff

Christophe Leonce

Chief Mechanic

Emanuel Buchner

Mechanic

Masashi Ogo

Mechanic

Mark Barnett

Mechanic

John Eyre

Mechanic