Technomag-CIP
News: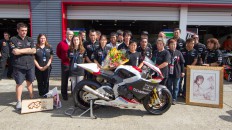 ,
The late Shoya Tomizawa, who tragically lost his life in a Moto2™ race in Misano in 2010, was remembered once more at Motegi this weekend, as his CIP team handed over a replica bike to his parents.
read more »
Thursday, 1, January 1970
Dominique Aegerter and the Technomag-CIP team celebrated their best result of the year at the Misano circuit on an emotional day that marked the second anniversary of their then rider Shoya Tomizawa's death.
Thursday, 1, January 1970
Tomoyoshi Koyama will back in the Moto2 World Championship with the Technomag-CIP team from Misano, having replaced Roberto Rolfo.