LCR Honda MotoGP
News: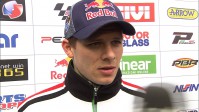 Sunday, 19, May 2013
Stefan Bradl had a third crash from in races as he slid out of Sunday's Monster Energy Grand Prix de France, but had been suffering from visibility problems.
read more »
LCR Honda MotoGP Information:
The LCR Honda team is managed by the former 125cc race-winner Lucio Cecchinello, who originally set the team up in 1996 to allow him to compete in grand prix racing. By focusing on just one rider the team has picked up some impressive results over recent seasons, and last season the former Moto2™ World Champion Stefan Bradl continued that trend, impressing everyone on his way to sealing the Rookie of the Year trophy.
Management
Lucio Cecchinello

CEO
Stefan Bradl's Crew
Cristophe Bourguignon

Chief Engineer

Brian Harden

Data Recording

Xavier Casanovas

Technician

Joan Casas

Technician

Christopher Richardson

Technician

Ugo Gelmi

Technician

Oscar Haro

Team Coordinator
Rider
Stefan Bradl

Rider