Repsol Honda Team
News: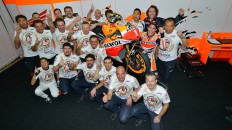 ,
The brilliant success of Marc Marquez (Repsol Honda RC213V) in the  2013 MotoGP™ Riders' World Championship was backed up on Sunday by Honda's victory in the highly-prized Constructors' World Championship.  
read more »
Repsol Honda Team Information:
The factory Honda team may have missed out on the riders' title last year, but still came away with the constructor and team crowns, so will be confident as they look to wrest the title from arch-rivals Yamaha. After the astounding retirement of Casey Stoner, in steps their new protégé Marc Márquez to make his debut alongside Dani Pedrosa, who is in his eighth season at Repsol Honda. The RC213V won more races than any other back in 2012, and so the Spanish duo will hope that this can translate into a championship-winning run.
Management
Shuhei Nakamoto

HRC Executive Vice President

Livio Suppo

Team Principal

Hideki Iwano

Team Director

Takeo Yokoyama

Technical Director
Dani Pedrosa's Crew
Mike Leitner

Race Engineer

Christophe Leonce

Chief Mechanic

Jose Manuel Allende

Electronics Engineer

Ramon Aurin

Data Engineer

Alberto Puig

Advisor

Masashi Ogo

Mechanic

Emanuel Buchner

Mechanic

Mark Barnett

Mechanic

John Eyre

Mechanic
Marc Marquez' Crew
Santi Hernandez

Race Engineer

Bruno Leoni

Chief Mechanic

Carlo Luzzi

Electronics Engineer

Giulio Nava

Data Engineer

Roberto Clerici

Mechanic

Andrea Brunetti

Mechanic

Carlos Liñan

Mechanic

Filippo Brunetti

Mechanic
Dani Pedrosa
Marc Marquez