Ambrogio Racing
News: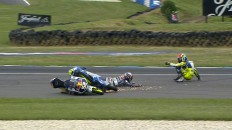 ,
Brad Binder and Danny Kent collided on Sunday at Phillip Island on the penultimate lap with the podium in their sights, whilst Romani Fenati also saw his chances of a rostrum result slip away with a late crash.
read more »
Thursday, 1, January 1970
World Wide Race, the company which owns and manages the team competing in the Moto3™ World Championship this year as Ambrogio Racing, has recruited Darryn Binder as teammate to Alessandro Tonucci for next season.
Thursday, 1, January 1970
Brad Binder (Ambrogio Racing) secured his first Moto3™ podium at the eni Motorrad Grand Prix Deutschland.