Repsol Honda Team
News: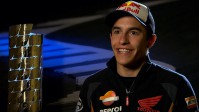 Friday, 28, November 2014
In a candid sit-down interview with motogp.com following his second MotoGP™ title win, Marc Marquez has spoken of the added media attention in 2014 and admits how being in the spotlight can be a somewhat awkward experience.
read more »
Repsol Honda Team Information:
After the astounding retirement of Casey Stoner at the end of 2012, in stepped a new protégé Marc Marquez to make his debut alongside Dani Pedrosa, who was in his eighth season at Repsol Honda. What a debut season it was for Marquez as he delivered the title in his rookie campaign, becoming the youngest ever premier-class World Champion in the process. Marquez and Pedrosa ride together once more in 2014, on a strong RC213V package provided by the might of HRC.
Team Management
Shuhei Nakamoto

HRC Executive Vice President

Livio Suppo

Team Principal

Takeo Yokoyama

Technical Director
Marc Márquez Crew
Santi Hernández

Race Engineer

Carlos Liñan

Chief Mechanic

Carlo Luzzi

Electronics Engineer

Gerold Buchner

Data Engineer

Roberto Clerici

Mechanic

Andrea Brunetti

Mechanic

Jordi Castellà

Mechanic

Javi Ortíz

Mechanic
Dani Pedrosa Crew
Mike Leitner

Race Engineer

Christophe Leonce

Chief Mechanic

José Manuel Allende

Electronics Engineer

Ramón Aurín

Data Engineer

Masashi Ogo

Mechanic

Emanuel Buchner

Mechanic

Mark Barnett

Mechanic

John Eyre

Mechanic
Dani Pedrosa
Marc Marquez