Mapfre Aspar Team Moto3
News: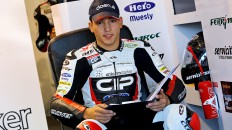 Thursday, 1, January 1970
Juanfran Guevara quittera le CIP Moto3 à la fin de la saison 2013 afin de rejoindre l'équipe de Jorge Martínez 'Aspar' pour sa seconde saison en Championnat du Monde.
lire la suite »
Thursday, 1, January 1970
Le pilote du team Mapfre Aspar s'est fait opérer d'une fracture de la cheville gauche lundi soir à Barcelone et devrait entamer la rééducation dès que possible afin de se préparer pour l'épreuve qui a lieu la semaine prochaine à Aragón.
Thursday, 1, January 1970
L'Allemand Jonas Folger s'est blessé au poignet droit en chutant lors d'un entraînement de motocross en Italie, quelques jours avant le Grand Prix Aperol de Catalogne.
Thursday, 1, January 1970
Quatrième à l'issue du sprint de cinq tours qui a suivi l'interruption de l'épreuve Moto3™ au Red Bull Grand Prix of the Americas, Jonas Folger a admis que le drapeau rouge lui avait donné une bonne opportunité de reconfigurer sa Kalex-KTM.
Photos: