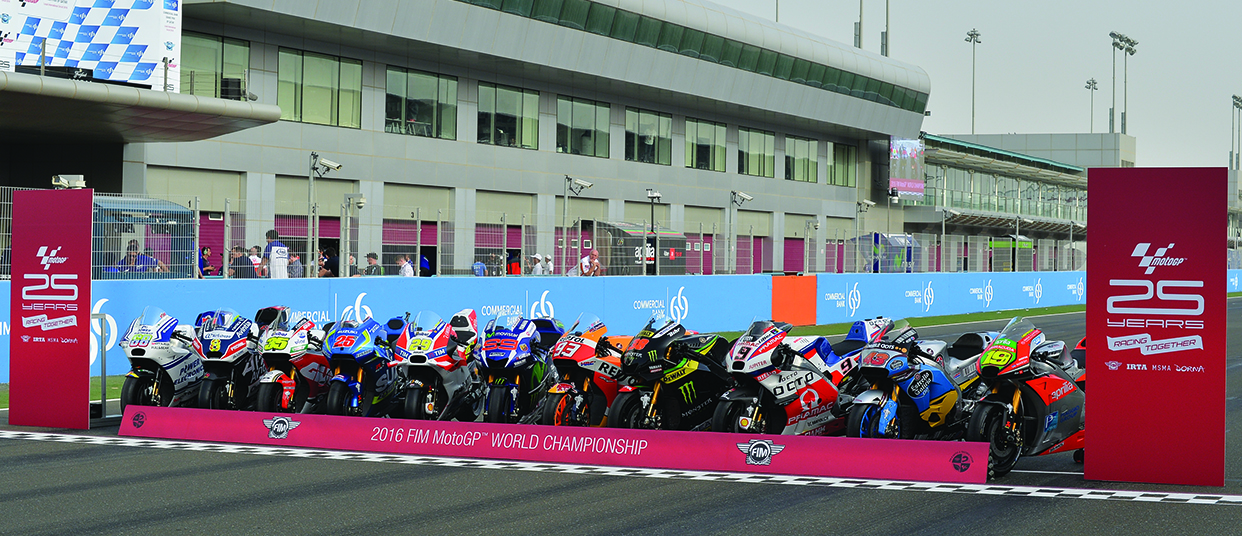 Moto
The motorcycles used in MotoGP™ are purpose-built, purebred racing bikes - 'prototypes' - not available for purchase by the general public and cannot be legally ridden on public roads.
The technical regulations to which Grand Prix teams must adhere to when they build their bikes for MotoGP™ competition provide a guide to the type of machinery the riders use.
Engine sizes permitted in each class are as follows:
MotoGP™ - As of the 2012 season, the maximum engine displacement permitted is 1000cc with a maximum of four cylinders and maximum bore of 81 mm - two-stroke engines are not allowed. A maximum of seven engines may be used by each permanent contracted rider for all the scheduled races of the season. Penalty for infringement of this means the rider will start from the pit lane five seconds after the start of the race. However, if a manufacturer di not won a dry race in the previous year, or has joined the paddock since, it is allowed 12 engines. If one of these teams achieves six concession points in 2016, they will have their engine allocation reduced to seven.
From 2014, teams not directly entered by one of the major manufacturers as a factory team or satellite outfit, categorised in the so-called "Open class". However from 2016 onwards the Open class was no more as all MotoGP™ machines ran a spec Magnetti Marelli ECU and software package often referred to as 'unified software'. This was implemented to allow newer manufacturers such as Suzuki, Aprilia and KTM to enter the World Championship with less of a disadvantage as the cost of developing electronics had become significant.
Moto2™ - The Moto2™ Official Engine is currently supplied by Honda and tuned by Spanish firm ExternPro. This is a 600cc four-stroke production engine.
Moto3™- Prototipi 250cc 4 tempi monocilindrici.
Apart from the displacement and number of cylinders for each class, engine type is restricted to reciprocating piston engines with no super- or turbo-charging, while the bike may have no more than six gears.
Questi sono i pesi minimi permessi:
MotoGP™ Up to 800cc – 157 kg
Moto2™ moto + pilota : 215 kg
Moto3™ moto + pilota : 148 kg
I team possono zavorrare le proprie moto per raggiungere i pesi minimi richiesti e il peso totale dovrebbe essere registrato all'inizio, anche se il vero controllo viene effettuato al termine di ogni sessione di prova e alla fine della gara. Per le classi Moto2™ e Moto3™ il peso è calcolato tenendo conto del pilota con addosso tutte le protezioni del caso.
In normal circumstances each MotoGP™ team has two bikes prepared to race for each rider, so that there is no delay should a problematic bike need to be replaced before a race or before or during a practice or Qualifying session. Moto2™ and Moto3™ classes may have only one bike per rider.
DESIGN
Grand Prix bikes are produced to win races and to showcase the design and technological capabilities of their manufacturers. The machines are therefore constructed from expensive, hardwearing and extremely light materials such as titanium and reinforced carbon fibre and benefit from advanced technology (carbon disk brakes, engine management systems, traction control), which does not feature on regular road bikes.
With millions of fans watching each round of the World Championship, the bikes are also a showcase for the numerous big brands involved in sponsoring MotoGP™ teams. Each bike displays a race number at the front and back, and usually features the colours and logos of the respective teams' main sponsor as well as numerous other logos displaying the names of teams' sub-sponsors.